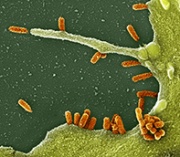 © SCIENCE PHOTO LIBRARY. Lung cells infected with H1N1 influenza virus (coloured SEM).
Influenza vaccination: need to increase uptake in Indigenous Australians
By Nicole MacKee
Improving influenza vaccine uptake among Indigenous Australians is critical amid the COVID­-19 pandemic, a leading Indigenous health expert says.
Professor James Ward, Director, UQ Poche Centre for Indigenous Health and Professor, School of Public Health, University of Queensland, said given that the severity of COVID­-19 outcomes were exponentially increased for people with comorbidities and other infectious diseases such as influenza, it was 'extremely important' that significant resources be dedicated to improving influenza vaccine uptake among Indigenous Australians.
Professor Ward was commenting on research published in the Australian and New Zealand Journal of Public Health that found that misconceptions about influenza vaccine and disease among Indigenous Australians, as well as inadequate identification of Aboriginality in general practice, were key barriers to vaccine uptake.
The researchers wrote that according to the most recent influenza vaccine coverage estimates, from 2013, 29% of Indigenous Australians aged 18 to 49 years and 51% of those aged 50 to 64 years had been vaccinated.
The researchers reported that 30% of 273 survey respondents were unaware of their eligibility for free influenza vaccination under the National Immunisation Program.
More than half of respondents (52%) believed that the vaccination could cause influenza, with 40% stating that there were 'better ways than vaccination for avoiding infection'.
Almost one in three respondents (30%) said they would not have the influenza vaccine if it was offered to them.
Health service access was not a major barrier, with 17% of respondents reporting difficulty accessing care, 15% reporting feeling uncomfortable and 8% reporting discrimination. How­ ever, 53% of respondents reported that they did not receive a vaccination reminder from a health professional.
The two­-stage study included a focus group with 13 Aboriginal immunisation healthcare workers, and a cross-sectional survey of adult Aboriginal community members.
Professor Ward said influenza vaccination rates among Indigenous Australians had not shifted in the past decade. He said in the context of the COVID­-19 pandemic, low vaccination uptake, particularly in those aged under 50 years, remained a significant concern. He did note, however, that in people aged 75 years and older, influenza vaccine rates were higher in Indigenous than in non­-Indigenous peoples.
Professor Ward said the survey findings reinforced the need for targeted, culturally appropriate education.
'It is clear that multilevel interventions are required that deliver strategies, including education, to communities and healthcare providers, in ways that are appropriate, in Indigenous languages, and, where possible, in pictorial formats and that these need to be widely distributed,' Professor Ward said.
He added that, at a healthcare system level, continuous quality improvement measures as well as provider initiatives – such as 'practice vaccine champions', training and education for healthcare staff – could also help to boost influenza vaccination rates among Indigenous Australians.
Aust NZ J Public Health 2020; doi: 10.1111/1753-6405.13004.