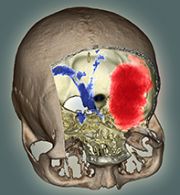 Intracerebral haemorrhage: a new marker for subsequent arterial ischaemic events
By Rebecca Jenkins
Intracerebral haemorrhage (ICH) may be a novel risk factor for subsequent arterial ischaemic events, research suggests.
Using pooled longitudinal data from four US­-based population­-cohort studies of nearly 50,000 people, researchers found 3.6 arterial ischaemic events per 100 person­-years after ICH vs 1.1 events per 100 person­-years among those without ICH.
After adjusting for baseline covariates including age, sex, race, traditional vascular risk factors and antithrombotic medication, ICH was associated with about double the risk of ischaemic stroke and myocardial infarction.
'Nearly 2.9 million patients worldwide experience intracerebral haemorrhage each year and many of these patients survive and can recover. Therefore, our results pertain to a large group of patients who may benefit from improved strategies to prevent arterial ischemic events,' the study authors wrote in JAMA Neurology.
'Our study highlights the need for randomized clinical trials to assess the net clinical benefit of antithrombotic therapy and statin medications in this high­-risk population.'
In an accompanying editorial, neurologist Professor Graeme Hankey, of the University of Western Australia and Sir Charles Gairdner Hospital, Perth, said the results were biologically plausible, given that ICH and arterial ischaemic events shared several risk factors and diseases, particularly hypertensive deep perforator arteriopathy.
'The importance of the find­ings is that they ignite and inform efforts to improve risk stratification and secondary prevention of ischemic as well as haemorrhagic events after ICH,' Professor Hankey wrote.
Prevention efforts targeting risk factors for stroke and myo­cardial infarction and haemorrhagic events and prioritising common underlying mech­anisms, such as lifestyle factors and hypertension, were likely to have the greatest impact on improving the health and sur­vival of ICH survivors, he said.
In terms of therapy, recent evidence suggested starting or resuming antiplatelet mono­therapy 'reasonably soon after ICH may be acceptably safe and may provide a net benefit in reducing the totality of recurrent vascular events' and further trials were examining these findings in more diverse populations.
'The unresolved question of whether there may be a net benefit of starting, or restarting, statins after ICH in patients at risk of ischemic events is also energised by [the latest] analysis,' he wrote.
There was also a range of other potential therapies that might warrant further investi­gation in this setting including phosphodiesterase­-3 inhibitors, nitric oxide donating organic nitrates, glucagon­-like peptide­-1 receptor agonists, antisense oligonucleotide therapies targeting lipoprotein(a) synthesis and anticoagulants targeting factor XIa.
JAMA Neurol 2021; doi:10.1001/jamaneurol.2021.0925.
JAMA Neurol 2021; doi:10.1001/jamaneurol.2021.0772.