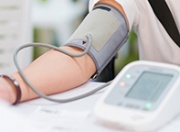 © WEERAYUT/STOCK.ADOBE.COM
Isolated diastolic blood pressure targets and CVD risk assessed
By Nicole MacKee
Adults diagnosed with isolated diastolic hypertension (IDH) according to a lower diagnostic threshold introduced in the USA in 2017, may not be at increased risk of cardiovascular(CV) events, researchers report in the Journal of the American Medical Association.
Evaluating data of almost 10,000 adults in the US National Health and Nutrition Examination Survey, the researchers found that the prevalence of IDH was 6.5% according to the 2017 American College of Cardiology/American Heart Association definition (130/80 mmHg or above) compared with 1.3% under the 2003 Joint National Committee definition (140/90 mmHg or above).
A longitudinal analysis of the Atherosclerosis Risk in Com­munities Study, which included almost 9000 adults, found that compared with normotensive adults, there was no significant association between the IDH defined by the 2017 guidelines and atherosclerotic CV disease (hazard ratio [HR], 1.06), heart failure (HR, 0.91) or chronic kidney disease (HR, 0.98).
Professor Markus Schlaich, President of the High Blood Pressure Research Council of Australia, said it was important to note that the latest study looked at only one phenotype, IDH, and systolic blood pressure was somewhat more relevant in the context of overall CV risk. Also, he said, from a practical perspective, it was important to look at both values given that blood pressure­-lowering medication would reduce both diastolic and systolic blood pressure.
Professor Schlaich, who was on the writing committee for The Heart Foundation's 2016 Guideline for the Diagnosis and Management of Hypertension in Adults, said the committee discussed shifting the Australian targets in the wake of studies that later triggered the US change. It was decided, however, to hold the local target of at least below 140/90 mmHg, with lower targets to be considered in specific high-risk patients.
GPs were well placed to tailor lifestyle advice and medical therapy to the individual patient, said Professor Schlaich, who is also Dobney Chair of Clinical Research at the University of Western Australia, Perth.
'Controlling blood pressure is one of the most effective means of reducing cardiovascular events. The question is: how aggressive do we have to be and how low do we want the blood pressure to go?' he said. 'This is where GPs, who know their patients well, come in. In very elderly, frail patients, we are a bit more conservative in our ambitions to lower blood pressure; and in young people we may be a bit more aggressive.' 
JAMA 2020; 323: 329-338.