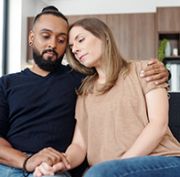 © DRAGONIMAGES/ ISTOCKPHOTO.COM. MODELS USED FOR ILLUSTRATIVE PURPOSES ONLY
Lancet series calls for greater care in management of miscarriage
By Dr Emily Lathlean MB BS, FRACGP
A three­-part series of Lancet articles outlining the wide­-ranging impacts of miscarriage has called for greater care in its management and presented recommendations for the assessment and management of both miscarriage and recurrent miscarriage.
In the first article, the authors discussed the epidemiology of sporadic and recurrent miscarriage and presented a literature review of the risk factors and consequences of miscarriage on future obstetric and maternal psychological and long­-term health.
Their review of nine large cohort studies from Europe and North America with an aggregated total of 4,638,974 pregnancies found the pooled risk of miscarriage to be 15.3% of all recognised pregnancies, equating globally to 23 million miscarriages per year, or 44 per minute. Risk factors included age, body mass index, Black ethnicity, smoking, alcohol consumption, exposure to air pollution and pesticides, persistent stress and working night­-shifts.
The authors evaluated the economic cost of miscarriage to individuals, healthcare systems and society, with the short­-term national economic cost of miscarriage estimated to be £471 million/year in the UK.
The series described pro­found psychological consequences of miscarriage, identifying a strong association between miscarriage and anxiety, depression and suicide. The authors highlighted miscon­ceptions about miscarriage held by women, men and healthcare providers, which could result in isolation, confusion and self­-blame, and advocated for appropriate screening and care of mental health issues associated with miscarriage.
Professor Robert Norman, specialist in reproductive endocrinology and infertility and Emeritus Professor of Reproductive and Periconcept­ual Medicine at the University of Adelaide, said, 'Miscarriage is a traumatic experience for women in particular, but also their partners. People often do not understand why a loss early in pregnancy has such a depressing effect and both partners need loving care and attention by friends and family.'
Miscarriage was found to be associated with an increased risk of adverse obstetric outcomes in subsequent preg­nancies. Recurrent miscarriage was also associated with long­ term health problems beyond pregnancy, including an increased risk of cardiovascular disease and venous thromboembolism.
In the second article, the authors developed recom­mendations, based on literature review, appraisal of guidelines and expert group discussions, for diagnosis, prevention and management of miscarriage. And in the third article, the authors developed recom­mendations for management of recurrent miscarriage, based on literature reviews, appraisal of guidelines and a UK­-wide consensus conference.
Professor Norman said, 'Early miscarriage is unfortunately common as a random event but repeat miscarriages need thorough investigation by a specialist in the area.'
The authors presented a minimum set of investigations and treatments to be offered to couples with a history of recurrent miscarriages, and urged healthcare policy makers and providers to make them universally available.
The series' authors also called for more data collection and research to improve patient care and policy development.
Lancet 2021; 397: 1654-1667.
Lancet 2021; 397: 1668-1674.
Lancet 2021; 397: 1675-1682.