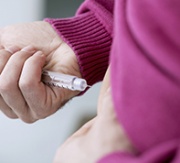 Life years lost to diabetes
By Nicole MacKee
People diagnosed with diabetes have a life expectancy up to eight years shorter than the general population, according to UK research published in Cardiovascular Endocrinology and Metabolism.
Drawing on data from the National Diabetes Audit and the Office of National Statistics, researchers found that the higher mortality associated with a diagnosis of type 1 or type 2 diabetes in the current UK population could lead to a loss of 6.4 million future life years.
They reported that an average person with type 1 diabetes (age 42.8 years) could expect to live a further 32.6 years compared with 40.2 years for a person of the same age without diabetes. An average person with type 2 diabetes (age 65.4 years) could expect to live a further 18.6 years, compared with 20.3 years for those without diabetes.
Professor Jonathan Shaw, Deputy Director (Clinical and Population Health) at Melbourne's Baker Heart and Diabetes Institute, said these results reflected similar Australian findings from 2016 (Diabetologia 2016; 59: 1437-1445).
Professor Shaw said for people with type 1 diabetes, it was important to understand the causes of the estimated premature mortality.
'People with type 1 diabetes can die very young from things like ketoacidosis or they may be dying just a bit younger from cardiovascular disease, and preventing ketoacidosis is very different from preventing premature myocardial infarction,' he said.
'There is less uncertainty around type 2 diabetes because [people with type 2 diabetes] are dying mainly of premature cardiovascular disease and kidney complications and the like, and therefore the response should be to improve control of blood pressure, glucose levels and lipids.'
Professor Shaw said the study revealed the substantial gap between what might be shown in clinical trials and what could be achieved in clinical practice.
'These studies show what we are actually doing when everybody is taken into account, whether they attend centres that take part in clinical trials, whether they're the sort of person who would take part in a clinical trial or not,' he said. 'So, this is a real test of ordinary clinical practice and clinical care, and it shows that there is a long way still to go.'
Professor Shaw, whose research team will soon publish updated diabetes mortality trends in Australia, said there had been some improvements in the life expectancy gap between people with diabetes and the general population.