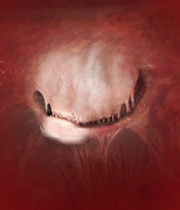 © CAROL & MIKE WERNER/VISUALS UNLIMITED, INC/SPL. Illustration of mitral valve prolapse indicating prolapse of posterior leaflet.
Link between mitral valve prolapse and sudden cardiac death
By Bianca Nogrady
Researchers have found evidence of an association between mitral valve prolapse (MVP) and sudden cardiac death.
A systematic review and meta­-analysis, published inHeart, found the prevalence of MVP among victims of sudden cardiac death was 11.7%, compared with a prevalence of 1.2% in the general community.
The analysis included 34 studies of the community prevalence of MVP, MVP in sudden cardiac death, and risk factors for sudden cardiac death in MVP.
Researchers found the overall event rate of sudden cardiac death in patients with MVP was 0.14 events per 100 patient­-years.
'This systematic review shows an overwhelming high prevalence of MVP in unexplained sudden death cohorts as compared with the prevalence of MVP in the general population and the incidence of [sudden cardiac death] in MVP cohorts,' the authors wrote. 'Although the population of MVP at risk of [sudden cardiac death] seems small, the potential number of "at-­risk" individuals is significant.'
Lead author Dr Chrishan Nalliah said the study was prompted by a patient who survived sudden cardiac death and was subsequently found to have bileaflet MVP.
'The link between arrhythmia syndromes and structural disease, particularly MVP, has been a debate in our circles for decades,' said Dr Nalliah, formerly from the Centre for Heart Rhythm Disorders at the South Australian Health and Medical Research Institute but now at Westmead Hospital, Sydney.
However, Dr Nalliah told Medicine Today that the real challenge would be to identify individuals with MVP who were also at elevated risk of sudden cardiac death.
The study found potential risk factors included bileaflet prolapse, ventricular fibrosis, ventricular ectopy and ST­-T wave abnormalities.
Dr Nalliah also raised the question of patients with unexplained episodes of syncope who also had MVP.
'These findings may be useful for risk stratifying patients with syncope and MVP,' he said. 'High­-risk features for sudden cardiac death may provide a framework for understanding the role of MVP in a particular patient and in turn guide clinical decision making.'
Heart 2018; 0: 1-8; doi: 10.1136/heartjnl-2017-312932.