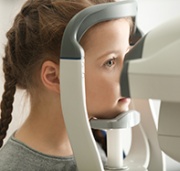 AFRICA STUDIO/SHUTTERSTOCK. MODEL USED FOR ILLUSTRATIVE PURPOSES ONLY
Link shown between blood pressure and eye health in children
By Melanie Hinze
New Swiss research suggests that retinal arteriolar narrowing is a predictor for higher blood pressure (BP) and, in turn, high BP is associated with subsequent retinal microvascular impairments in children.
Published in Hypertension, the study was the first to look at the long-term inter­relation between retinal microvascular health and progression of BP in children.
In total, 391 children aged 6 to 8 years were screened for BP and retinal vessel diameters using standardised protocols. Initial screening took place in 2014, with follow up in 2018.
During follow up, systolic and diastolic BP increased significantly, while central retinal arteriolar (CRAE) diameters decreased. Children with narrower CRAE at baseline developed higher systolic BP after four years, while children with increased systolic or diastolic BP at baseline developed narrower CRAE during follow up.
The study authors concluded that narrowing of retinal arterioles had the potential to predict the development of high childhood BP and higher BP was associated with subsequent development of microvascular impairments.
'These findings postulate a bivariate, interdependent temporal relationship between BP and microvascular health in prepubertal children', they wrote.
Professor Robert Weintraub, paediatric cardiologist and Head of the Heart Transplant and Pulmonary Hypertension service at the Royal Children's Hospital, Melbourne, said, 'This study adds to a growing body of evidence that traditional risk factors for cardiovascular disease have their antecedents in childhood, with measurable effects on both micro­vascular structure and function.'
The authors suggested that future research might help to establish whether timely primary prevention strategies, such as lifestyle intervention or medications in children at risk of developing hypertension, slowed the growing burden of hypertension in both children and adults.
Hypertension 2020; 76; doi: 10.1161/HYPERTENSIONAHA.120.14695.