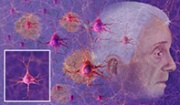 © ILUSMEDICAL/STODK.ADOBE.COM
List of modifiable risk factors for dementia expanded
By Rebecca Jenkins
Excessive alcohol consumption, head injury and air pollution should be considered modifi­able risk factors for dementia, an international expert panel concludes.
Assessing the latest evidence for the 2020 Lancet Commis­sion on dementia, an inter­disciplinary expert panel recommended adding the three new dementia risk factors to the nine included in their 2017 review: lower education levels, hearing loss, hypertension, obesity, smoking, depression, social isolation, physical inactivity and diabetes.
Public health initiatives minimising head injury and decreasing harmful drinking (more than 21 units a week) could potentially reduce young­ onset and later­-life dementia.
Policy was needed to expedite improvements in air quality, particularly in areas of high air pollution.
'It is never too early and never too late in the life course for dementia prevention,' the expert authors wrote in the Lancet.
'Together the 12 modifiable risk factors account for around 40% of worldwide dementias, which consequently could theoretically be prevented or delayed.'
The strongest evidence was around hypertension and dementia risk, they noted. Midlife systolic blood pressure control should aim for 130 mmHg or lower to delay or prevent dementia.
Of the 12 potentially modifi­able risk factors, hearing loss accounted for the greatest population attributable frac­tion of cases (8%), but hearing aids appeared to reduce this excess risk.
Review coauthor Emeritus Professor David Ames, of the National Ageing Research Institute and Academic Unit for Psychiatry of Old Age at the University of Melbourne, said the 2020 report found additional evidence on hearing loss and dementia to further support the initial 2017 finding.
'We should do all we can to prevent hearing loss and to compensate for it when it occurs. We know that social isolation and lack of stimulation affect brain development and function and this is likely why not being able to hear affects dementia risk,' he told Medicine Today.
It would never be possible to prevent all the identified risk factors from affecting the population, Professor Ames added.
'Nevertheless, it is encourag­ing to think people have some opportunities to affect their chance (and the chance of others) of getting dementia.'
The review also examined the current landscape for dementia intervention and care, noting that people with dementia were particularly vulnerable to COVID­-19 because of their age, multimorbidity and difficulties managing physical distancing.
Professor Ames acknow­ledged it was a difficult situation where measures to protect people from contracting the severe acute respiratory syndrome coronavirus­-2 increased social isolation.
'It strikes me as a no­-win situation. I think we have to start by preventing infective deaths if we can, and then hope we can resume social interaction when a vaccine comes along or the virus runs its course,' he said.
'But right now there are many people with dementia in care who are bewildered at the loss of visits from their families.'
Lancet 2020; 396: 413-446.