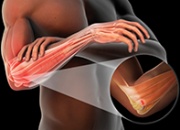 Little benefit found from nonsurgical interventions for tennis elbow
By Bianca Nogrady
Nonsurgical treatments for tennis elbow provide at best only small amounts of pain relief, according to a systematic review and meta­-analysis.
Writing in the The American Journal of Sports Medicine, researchers report the results of their review of 36 randomised, placebo­-controlled trials of 11 nonsurgical treatments for tennis elbow. These included local corticosteroid injections, laser therapy, local botulinum toxin injection, acupuncture, extracorporeal shockwave therapy and local platelet­-rich plasma injections.
At four weeks after treatment, local corticosteroid injection was the only approach that achieved a significant reduction in pain, but 47 patients had to receive treatment to achieve a benefit for one patient.
Between five and 26 weeks after treatment, only laser therapy and local botulinum toxin injections achieved significant pain relief, with a number needed to treat (NNT) of 13 and 18, respectively.
But at 26 weeks, patients who had received corticosteroid injections showed worse pain than the placebo group, and only those who had received extracorporeal shockwave therapy had long­term pain relief benefits. However, the NNT for extracorporeal shockwave therapy was 1126.
No treatment achieved a significant improvement in grip strength in the short term, and no studies looked at the long­-term effects on grip strength, although laser treatment was associated with increased grip strength in the medium term.
Although no one treatment was associated with a higher rate of adverse events than any other, overall the treatments were associated with a twofold higher risk of any adverse event compared with placebo.
Dr Paula Beckenkamp from the Musculoskeletal Health group at The University of Sydney said the results sug­gested that tennis elbow was likely to improve over the short­ to medium­ term even with placebo. She also high­ lighted that the review did not include exercise as a treatment modality, which is considered an important component of tennis elbow management, nor did it include orthotics or NSAID treatment.
'Nonetheless, it is important to consider that recurrent episodes are not uncommon in this condition,' she told Medicine Today. 'Patients who are left untreated or receive inappropriate management may be at an increased risk of having a recurrence if impairments and factors associated with the onset of symptoms are not appropriately identified and addressed.'
Am J Sports Med 2018; doi: 10.1177/0363546518801914.