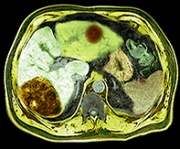 © DR P. MARAZZI/SPL. Hepatocellular carcinoma.
Low-dose aspirin may reduce carcinoma and liver-related mortality in viral hepatitis
By Melanie Hinze
A Swedish nationwide study of patients with viral hepatitis has shown that low­-dose aspirin reduces the risk of hepatocellular carcinoma (HCC) and liver­-related mortality, without a significantly increased risk of gastrointestinal bleeding.
Published in The New England Journal of Medicine, the study included 50,275 adults from Swedish nationwide registries who received a diagnosis of chronic hepatitis B or hepatitis C from 2005 to 2015 and who did not have a history of aspirin use. Of these, 14,205 subsequently started taking low­-dose aspirin (up to 160 mg/day) for other reasons.
Compared with patients who took aspirin short term (for three months to less than one year), those taking aspirin for at least five years had a 43% reduction in HCC risk. At 10 years, liver­-related mortality was reduced by almost 30% in aspirin users compared with non­-aspirin users.
Professor John Olynyk, Head of Gastroenterology at Fiona Stanley and Fremantle Hospitals Group and Professor of Translational Medicine at Edith Cowan University, Perth, said that a major limitation of the study – which probably led to an under­ estimation of the therapeutic benefits of aspirin – related to the small proportion (11%) of subjects with compensated cirrhosis in the study.
'It is the cirrhotic group who represent the at ­risk group for over 90% of HCC which develops in the setting of human chronic liver disease,' he told Medicine Today. 'For aspirin to be effective in routine clinical care it would need to be proven to be safe and efficacious in the prevention of HCC in those with liver cirrhosis who are at highest risk of the disease.'
Professor Olynyk said that aspirin represented an ideal low­ risk agent to be systematically evaluated in the prevention of HCC in patients with cirrhosis.
'As such, a prospective clinical trial in subjects with cirrhosis is now needed.'
N Engl J Med 2020; 382: 1018-1028.