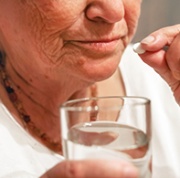 © MARIIA PETRAKOVA/STOCK.ADOBE.COM MODEL USED FOR ILLUSTRATIVE PURPOSES ONLY
Lower mortality seen with statin use in older people
By Rebecca Jenkins
Older people who first start statins aged 75 years or older have a significantly reduced risk of dying compared with people who never initiate therapy, a retrospective cohort study shows.
Analysing data from 326,981 older people who were free of atherosclerotic cardio­vascular disease at baseline, researchers found new statin use was associated with a 25% reduction in all-cause mortality and a 20% reduction in cardiovascular mortality after propensity score weight­ing was applied.
'Results remained consistent even at advanced ages and in those with comorbidities, with similar lower risk for mortality observed in statin users 90 years and older or with dementia,' the US study authors wrote in JAMA.
Researchers followed participants over a mean of 6.8 years but said an association between statin use and lower mortality was evident within two years.
In an accompanying editorial, Professor Stephen Nicholls, Director of MonashHeart and the Victorian Heart Institute, Melbourne, and Dr Adam Nelson, postdoctoral fellow at Duke Clinical Research Institute, Durham, US, said patients aged over 75 years were under­-represented in the major statin trials, leaving questions about the relative intensity of statin therapy used in older patients with established disease as well as the right time to consider initiating statin therapy for those yet to experience a clinical event.
These older patients were one of the fastest growing subgroups in health care systems, yet were often overlooked for a range of evidence­-based therapies, Professor Nicholls told Medicine Today.
'The challenges are a combination of their under­ representation in clinical trials (thus a "lack" of data) and the misguided view held by some that the risk in older patients is not modifiable,' he said.
'We need more data in older patients, it's why reports such as the one in JAMA are helpful,' he added.
While welcoming this study, Professor Nicholls noted it was observational and there was uncertainty over its generalis­ability as participants were almost exclusively white men.
Clinicians were awaiting the results from two ongoing randomised controlled trials evaluating the effects of statins for primary prevention in older people.
'Randomised controlled trials are the most important source of data as they minimise bias. I would expect that positive findings from such trials would inform the guidelines,' he said.
JAMA 2020; 324: 68-78.
JAMA 2020; 324: 45-46.