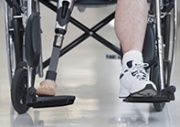 © BLEND RF/ERPRODUCTIONS LTD/ DIOMEDIA.COM
Microvascular disease an independent risk factor for amputation
By Bianca Nogrady
Microvascular disease (MVD) is associated with a significantly increased risk of amputation, independent of traditional risk factors and especially in conjunction with peripheral artery disease (PAD), say US researchers.
In their paper published in Circulation, the researchers reported the outcomes of a longitudinal cohort study of amputation risk in 125,674 veterans who had not had any amputations, and were followed for a median of 9.3 years.
They found that those with a diagnosis of peripheral neuropathy or retinopathy related to MVD had a 3.7­ fold higher risk of amputation than those without MVD or PAD.
PAD alone was associated with a nearly 14­ fold increased risk of amputation, but PAD and MVD together were associated with a 22.7­ fold higher risk.
'This suggests that MVD plays an important and independent role in creating conditions that place patients at risk for amputation,' the researchers wrote. 'MVD may play an important role in determining the PAD population at particularly high-risk for [critical limb ischaemia] and amputation in addition to suggesting the need for active foot surveillance in patients with MVD alone.'
These associations were highly significant and were adjusted for demographic characteristics, cardiovascular disease risk factors and other potential confounders.
MVD was associated with 18% of amputations overall, including 21% of below ankle amputations, 15% of below knee amputations and 6% of above knee amputations. In contrast, PAD was associated with 39% of above knee amputations.
Commenting on the study, Professor Garry Jennings, Chief Medical Advisor for the National Heart Foundation, noted that MVD in the legs was generally associated with diabetes but a significant proportion of individuals who underwent amputations associated with MVD did not have diabetes.
'The authors point out that although diabetes is a common cause of microvascular disease there are more people in the ageing community with microvascular disease without diabetes than those with it,' he told Medicine Today.
Professor Jennings said the findings contributed to a growing body of evidence that MVD played an important role in development of vascular complications in the heart, brain, kidneys and skeletal muscle.
He also said the results highlighted the importance of being aware of the risk of leg ischaemia in people with MVD affecting the eyes, kidneys or peripheral nerves, and 'for careful management when signs of reduced perfusion develop.'
Circulation 2019; https://doi.org/10.1161/CIRCULATIONAHA.119.040672