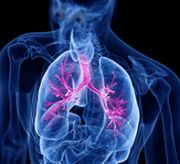 © SCIEPRO/STOCK.ADOBE.COM
Moderate to severe asthma: triple therapy reduces exacerbations
By Nicole MacKee
Triple therapy is more effective in managing asthma flare-ups in children and in adults than dual therapy, researchers have reported in JAMA.
In a systematic review and meta-analysis, researchers evaluated 20 randomised controlled trials comparing triple therapy – where a long-acting muscarinic antagonist (LAMA) is added to an inhaled corticosteroid (ICS) and a long-acting beta-agonist (LABA) – with dual therapy (ICS and LABA).
The trials included almost 12,000 children (aged 6 to 18 years) and adults with uncontrolled moderate-to-severe asthma.
The review found high certainty evidence that, compared with dual therapy, triple therapy was significantly associated with reduced risk of severe asthma exacerbations (risk ratio, 0.83), and modest improvement in asthma control.
The researchers reported no quality of life or mortality difference between the treatment groups.
Dr Shivanthan Shanthikumar, consultant paediatric respiratory specialist at Melbourne's Royal Children's Hospital and clinician scientist at Murdoch Children's Research Institute, welcomed the findings.
'It's what we suspected, so it's a good thing to see this high-quality evidence supporting this approach,' he said. 'It's helpful to have another tool in the toolkit.'
Dr Shanthikumar noted, however, that the changing landscape of asthma management somewhat reduced the significance of these findings.
'In recent years, there has also been the emergence of biologic treatments for asthma,' he said, noting that these therapies were reserved for the most severe cases of asthma. 'These injected drugs target inflammatory pathways, such as immunoglobulin E or eosinophilic inflammation.'
Dr Shanthikumar said there was one biologic agent approved for children aged as young as 6 years, and several other agents approved for children aged 12 years and over.
Also, he said, there was growing understanding of the role of treatable traits – such as obesity, sleep apnoea, depression and anxiety – in poorly controlled asthma. For many patients, he said, the key to improving asthma control was addressing and managing these traits, rather than adding another asthma medication.
'Recent guidelines would suggest that baseline therapy for most adults and adolescents is a dual therapy inhaler and then if a patient remains poorly controlled on a dual therapy inhaler, the options include considering treatable traits, considering a biological agent or adding in a third inhaled therapy.'
Dr Shanthikumar said triple therapy would play a key role in reducing asthma exacerbations while children were awaiting specialist assessment.
'In childhood asthma, if someone is poorly controlled on maximum dose ICS in combination with a LABA, then that should trigger referral to an asthma specialist,' he said. 'And while awaiting that appointment, it would be reasonable to add a LAMA into the child's treatment.'
JAMA 2021; doi:10.1001/jama.2021.7872.