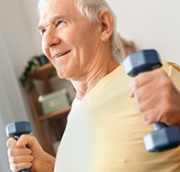 © VIKTORIIA/STOCK.ADOBE.COM
Mortality benefits of pulmonary rehabilitation for COPD after hospital discharge
By Nicole MacKee
Pulmonary rehabilitation within three months of hospitalisation for chronic obstructive pulmonary disease (COPD) may reduce a patient's risk of death in the year after discharge, US researchers report.
In a retrospective cohort study published in the Journal of the American Medical Association, researchers analysed the claims data of more than 197,000 patients aged over 65 years who had been hospitalised for COPD. They found that patients who within 90 days of discharge had participated in pulmonary rehabilitation programs – which involved exercise training and self-management to improve physical and psychological wellbeing – had a significantly reduced risk of mortality in the first year after discharge (hazard ratio [HR], 0.63).
The greatest benefit was seen among patients attending rehabilitation 61 to 90 days after discharge (HR, 0.40). Those attending a rehabilitation program within 30 days of discharge also had a reduced mortality risk (HR, 0.74).
The researchers found for every three additional rehabilitation sessions, the risk of death was significantly reduced (HR, 0.91).
Professor Christine Jenkins, Chair of the Lung Foundation Australia, welcomed the study, particularly its guidance on the optimal timing of rehabilitation.
'It may be best for patients to have a small wait period before attending pulmonary rehabilitation,' Professor Jenkins told Medicine Today. 'Often you feel that it's too much for a patient to start rehab immediately after an exacerbation. They are still hypoxaemic – more than is normal for them – they are often more deconditioned than usual and they may have resolving comorbid conditions.'
The US researchers noted that about 1.5% of the patients included in the study attended rehabilitation. They said few patients completed rehabilitation because of a 'lack of physician referral, lack of access to facilities, and a variety of patient-related barriers'.
Professor Jenkins said there were similar barriers in Australia, where the uptake was a little higher at about 5%, but still too low.
'Clinicians often don't refer patients to pulmonary rehab, or perhaps don't work hard to persuade the patient of its merits,' she said. 'There are patient-related barriers as well, such as access to public transport or parking. It's a problem for patients who are quite disabled by their COPD.'
A further patient barrier was cost, Professor Jenkins said. The Lung Foundation had made a submission to the Medical Services Advisory Committee for a Medicare item number for pulmonary rehabilitation, she said, but the submission was unsuccessful.
'A Medicare item number will be helpful because it will mean that pulmonary rehabilitation can be offered to more patients,' she said, noting that she hoped a future, more targeted submission would be successful.
JAMA 2020; 323: 1813-1823.