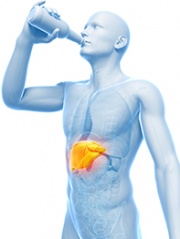 Mortality rates suggest nonsevere alcoholic hepatitis is not benign
By Melanie Hinze
High mortality rates identified in patients with nonsevere alcoholic hepatitis in a recent systematic review and meta­ analysis has prompted a call for better treatment strategies and further characterisation of clinical outcomes to ensure this group of patients isn't overlooked.
The study, published in Alimentary Pharmacology and Therapeutics, was based on data from 1372 hospitalised patients with nonsevere alcoholic hepatitis in 25 retrospective and prospective studies published between 1946 and 2018.
The study authors noted that nonsevere alcoholic hepatitis had not been clearly characterised or studied, in contrast with severe alcoholic hepatitis that had been clearly defined and known to have high mortality rates. Nonsevere alcoholic hepatitis was defined variably in the studies, based on bilirubin, prothrombin time and creatinine levels.
The research found that 28­ day mortality was 6% and one­ year mortality 13% in this group and that these figures did not improve over time. 'Moderate' alcoholic hepatitis would be a more apt descriptor of nonsevere alcoholic hepatitis, the authors wrote, and recommended further studies be conducted to develop strategies to improve outcomes of patients with this condition.
Associate Professor Simone Strasser, Hepatologist at the Royal Prince Alfred Hospital, Sydney, and President­ Elect of the Gastroenterological Society of Australia, told Medicine Today that she agreed that further study was required to understand the factors associated with poor prognosis in this group of patients.
She said that, while not reported in this analysis, it was known that complete abstinence from alcohol had a major impact on patients with alcohol­related liver disease and could lead to complete reversal of the clinical manifestations of this disease.
'While it can be assumed that hospitalised patients are not continuing to drink during their admissions, the return to significant alcohol consumption following discharge is clearly a risk and is likely to be a significant contributor to the ongoing progression of liver disease,' she said.
'As such, it is essential that patients with alcohol-related liver disease are linked to services and programs to ensure complete abstinence from alcohol.'
Associate Professor Strasser noted, however, this was incredibly complex, as the factors that predisposed patients to harmful drinking were usually still present on discharge from hospital and often involved an interplay between mental health disorders, socioeconomic determinants, trauma and loss.
A successful therapeutic approach was likely to involve more than just pharmacologic treatments directed at liver disease, as had been studied in those with severe alcoholic hepatitis, she added.
Aliment Pharmacol Ther 2019; 00: 1-9; doi: 10.1111/apt.15376.