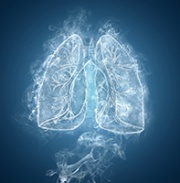 Mother's smoking affects offspring lung function in middle age, study finds
By Jane Lewis
Children exposed to maternal smoking may be predisposed to developing chronic obstructive pulmonary disease (COPD) in middle age, especially if they become smokers themselves, suggests an Australian study published in Respirology.
Speaking to Medicine Today, Professor Christine Jenkins, Senior Staff Specialist in thoracic medicine at Concord Hospital, and Head of Respiratory Trials at The George Institute for Global Health, Sydney, described the research as one of the few really good substantial longitudinal studies of lung function and unique in Australia.
The fifth decade follow up of the Tasmanian Longitudinal Health Study cohort (comprising 8583 children born in 1961), the study was based on data collected from a 2004 postal survey (5729 responses) and laboratory-based lung function testing (n=1389) in 2006 to 2008. For the subgroup studied in middle age, heavy maternal smoking (more than 20 cigarettes/day) was associated with a 2.7-fold increase in the odds of having post-bronchodilator airflow obstruction, which was independent of gender or personal smoking status. Maternal smoking was also shown to significantly augment the adverse effect of personal smoking on gas transfer factor (z-score -0.46 vs -0.25).
'Heavy maternal smoking during childhood appears to predispose to spirometrically defined COPD,' the study authors concluded, adding that 'the interplay between maternal and personal smoking on gas transfer factor suggests that early life exposure increases an individual's susceptibility to adult smoking exposure.'
According to Professor Jenkins, an important deficit in the study is that the mothers' smoking behaviours are only known from the time their children were recruited to the study at 7 years of age, not during pregnancy. However, while in utero exposure may well be important, early life exposure to smoking from the mother – or probably whichever parent the child is with the most – is likely to be an even bigger factor, she suggested.
'This study flags something that is potentially extremely important, and that is that there may be an interaction between early life smoke exposure and risk of developing lung disease later in life, particularly if you are a current smoker,' she said.
Commenting that there are already multiple reasons clinicians may give patients as to why they shouldn't smoke, she said another may be: 'if you are a smoker and your mother smoked when you were young, you are probably even more likely to develop obstructive lung disease.' Alternatively, she said, a prospective mother could be advised that smoking can affect the lung health of her children into their adult lives.
Respirology 2016; doi: 10.1111/resp.12750.
Picture credit: © Coffeemill/Shutterstock.