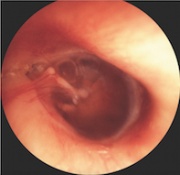 Nasal balloon relieves 'glue ear' in children
By Bianca Nogrady
Nasal balloon autoinflation could help relieve otitis media with effusion in children, new data suggest.
An open, randomised, controlled trial in 320 children (aged 4 to 11 years) showed those who used the device three times daily for one to three months plus usual care were 36% more likely to have normal tympanograms at one month compared with controls who received usual care alone.
The method involved children inflating a special balloon by blowing through each nostril into a connecting nozzle, after watching a nurse or parent demonstrate the procedure.
The benefits were similar at three months after randomisation, and the treatment was associated with significant improvements in ear-related quality of life, according to the study published in the Canadian Medical Association Journal.
'Autoinflation is a simple, low-cost procedure that can be taught to young children in a primary care setting with a reasonable expectation of compliance,' the UK researchers wrote.
'With an NNT [number needed to treat] of 9, it is a relatively noninvasive option that can add benefit by helping to fill the current gap between either doing nothing effective or referring for surgery.'
Otolaryngology, head and neck surgeon Associate Professor Kelvin Kong said that although Valsalva manoeuvres such as this were not new, the results of this particular intervention were exciting and justified larger trials.
However, he pointed out that the majority of children with 'glue ear' would have their condition resolve spontaneously within one to three months.
'We try all conservative measures first but if they haven't resolved by three months, those children would not necessarily benefit from a balloon inflation because the middle ear fluid can be thick,' Professor Kong told Medicine Today. He said that most of those who receive surgery would have waited long periods already, so if their condition has persisted with symptoms that long, then surgery may be justified.
Professor Kong also stressed that not all children with glue ear need surgical treatment.
'Children often can hear well and have no infections, so we don't always need to do anything on those children,' he said.
'Just because they have a flat tympanogram doesn't always mean they need an intervention, which would only be needed when there's failure of conservative measures, recurrent infection, hearing loss or a complication of otitis media.'
CMAJ 2015; doi: 10.1503/cmaj.141608.
Picture credit: @ Clinica Claros, ISM/SPL.