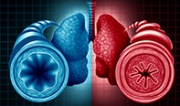 © LIGHTSPRING/SHUTTERSTOCK
Is as-needed combination inhaler an option for mild asthma?
By Bianca Nogrady
Using a combination budesonide and formoterol inhaler as-needed is much more effective than as-needed terbutaline and may be as effective as maintenance budesonide in preventing severe exacerbations in people with mild asthma, two studies published in The New England Journal of Medicine suggest.
The Symbicort Given as Needed in Mild Asthma (SYGMA) 1 trial in 3836 patients with mild asthma, funded by AstraZeneca, randomised participants to twice-daily placebo plus as-needed terbutaline, twice-daily placebo plus as-needed budesonide-formoterol, or twice-daily budesonide plus terbutaline used as needed.
Patients on the budesonide maintenance therapy had the highest mean percentage of weeks with well-controlled asthma, and those on as-needed terbutaline had the lowest. But the annual rate of severe exacerbations was markedly lower in both the as-needed budesonide-formoterol and budesonide maintenance groups compared with the as-needed terbutaline group. 
Corticosteroid exposure was also significantly lower in the as-needed combination therapy group compared with the maintenance therapy group.
The SYGMA 2 trial, in 4176 patients, also funded by AstraZeneca, compared the effect of as-needed budesonide plus formoterol (and a twice-daily placebo) with twice-daily budesonide plus as-needed terbutaline.
Researchers found that using the combination therapy as-needed did not increase the rate of severe exacerbations compared with budesonide maintenance therapy but was associated with a significantly lower inhaled corticosteroid use.
The study also showed a similar time to first exacerbation in both groups, and only a small difference in Asthma Control Questionnaire scores favouring budesonide maintenance.
Professor Helen Reddel, a coauthor on both papers, said people with mild asthma often relied solely on their blue reliever medication to control their asthma, rather than regularly taking corticosteroid preventer medication.
'This is perfectly under-standable if you've got mild symptoms, they're not occurring frequently and when you have them, your blue reliever inhaler makes them go away quickly,' said Professor Reddel, from the Woolcock Institute of Medical Research in Sydney. 
Speaking to Medicine Today, Professor Reddel noted that, when taken regularly, budesonide maintenance therapy was very effective in controlling asthma and reducing exacerbations. In addition, the combination budesonide-formoterol was not approved for as-needed use, except in patients also prescribed regular maintenance budesonide-formoterol.
She said further investigations were now needed to determine which patients with mild asthma would do better on a regular treatment and which would do just as well on as-needed treatment.
NEJM 2018; 378: 1877-1887.
NEJM 2018; 378: 1865-1876.