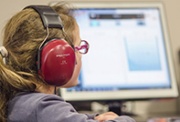 © BSIP/VILLAREAL/DIOMEDIA.COM. MODEL USED FOR ILLUSTRATIVE PURPOSES ONLY
Neurocognitive impairment risk in childhood cancer survivors with severe hearing loss
By Nicole MacKee
Childhood cancer survivors with severe hearing loss are at increased risk of developing neurocognitive deficits, according to US researchers, who say early screening and interventions for hearing impairment may mitigate this risk.
In a cross-sectional study of 1520 participants in the St Jude Lifetime Cohort Study – an ongoing study into the long-term health impacts of childhood cancer survivors – researchers found that more than one-third of those treated with ototoxic therapy (34.9%) developed severe hearing impairment.
Compared with those with normal hearing or mild impairment, children with severe hearing impairment developed deficits in a range of neurocognitive measures, including verbal reasoning, verbal fluency, reading and mathematical skills. The deficits identified were independent of ototoxic therapies used.
Published in JAMA Oncology, the study evaluated the effects of treatment exposure (platinum­ only exposure group who were treated with cisplatin and/or carboplatin chemotherapy), cochlear radiotherapy exposure (treated with cochlear radio­ therapy with or without platinum-based chemotherapy) and no exposure.
Dr Geoff McCowage, Paediatric Oncologist and Senior Staff Specialist at the Children's Hospital Westmead, said it was useful to have data on the magnitude and severity of the impacts.
'As paediatric oncologists, we are constantly looking for ways to avoid ototoxic therapies. But, at present, cisplatin is the key drug in treating certain malignancies, including osteo­ sarcoma, neuroblastoma, medulloblastoma and germ cell tumours,' Dr McCowage said. 'So, we have to accept a certain amount of ototoxicity.'
He said carboplatin was generally less ototoxic than cisplatin, except when used in high doses.
In an accompanying editorial, it was noted that one in five cancer survivors (18.4%) with severe hearing impairment were in the non­-exposed group.
Dr McCowage said this may reflect exposure to other ototoxic treatments, such as aminoglycoside antibiotics, during cancer treatment, and, as the study authors noted, the inclusion of childhood cancer survivors with conductive or noise­-induced hearing impairment in the analysis.
Dr McCowage said the key message to clinicians from the study was to have a low threshold for formal hearing testing in children who have been treated for cancer.
'In fact, children with any basis for hearing loss may have similar things going on, so this reminds us that we should have a low threshold to test hearing in any child.'
JAMA Oncol 2020; doi:10.1001/jamaoncol.2020.2822.
JAMA Oncol 2020; doi:10.1001/jamaoncol.2020.2639.