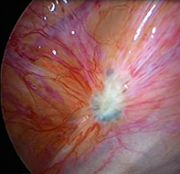 New Australian endometriosis guideline may further improve time to diagnosis
By Nicole MacKee
Australia's first guideline for the management of endometriosis highlights the importance of dealing with this common condition 'appropriately, compassionately, and immediately', says a leading expert.
Professor Jason Abbott, who led the development of the guideline, said the document aimed to ensure that Australian clinicians were 'on the same page' in diagnosing and managing endometriosis.
'The field of endometriosis is changing relatively rapidly,' Professor Abbott told Medicine Today. 'We are constantly getting new information of varying degrees of quality, and we do see a broad range of management strategies.'
Professor Abbott said Australia was a world leader in managing endometriosis – 'we have excellent skillsets from medical all the way through to surgical' – but care remained inconsistent.
'There are pockets of fantastic care, but it's not the same for all,' he said.
The guideline was developed by a multidisciplinary group convened by the Royal Australian and New Zealand College of Obstetricians and Gynaecologists as part of the Federal Government's 2018 National Action Plan for Endometriosis.
Its development follows on from the 2013 launch of an international guideline on endometriosis by the European Society of Human Reproduction and Embryology.
Professor Abbott said in the years since the launch of the international guideline, the time to diagnosis in Australia had fallen from 7-12 to 5-6.5 years, and it was hoped that the availability of an Australian guideline would lead to further improvement.
'We have reduced [time to diagnosis] by 50% in the space of eight years, so we may reduce it a further 50% in next eight years,' he said, noting that this would 'drastically improve the lives of the 830,000 women, girls and those who identify as female, with endometriosis'.
Professor Abbott said the guideline outlined the signs and symptoms to be on the alert for in primary care, and the importance of developing a plan and following up.
'Plans need to be reviewed and if there are ongoing issues, that may be the time to take the next step and consider referral or involving other members of the multidisciplinary team,' he said.
Professor Abbott also noted that the guideline would help to dispel myths around endometriosis.
'This includes the myth that teenagers can't have endometriosis because we absolutely know that they can. The presentation of pain is common and dealing with it appropriately, compassionately, and immediately is a great way to help improve the outcomes.'
Australian Clinical Practice Guideline for the Diagnosis and Management of Endometriosis. Melbourne: RANZCOG, 2021.