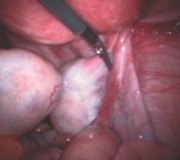 © DR NAJEEB LAYYOUS/SPL. ENDOSCOPIC IMAGE OF POLYCYSTIC OVARIES (WHITE).
New guideline to improve health outcomes for women with PCOS
By Nicole MacKee
An Australian-led global effort to improve the care of women with polycystic ovary syndrome (PCOS) is ushering in significant changes to the diagnosis and management of the condition, a major cause of female infertility. 
Monash University's Professor Helena Teede said the new international guideline, which was simultaneously published in Clinical Endocrinology, Human Reproduction and Fertility and Sterility in July, was the result of consultations with 3800 women and health professionals around the world.
'PCOS affects 13% of women and yet research shows it is poorly understood and often dismissed by health professionals,' Professor Teede told Medicine Today. 'Diagnosis is a slow and painful journey that can involve consulting several health professionals and take up to two years.'
Also, she said, different specialties had varying approaches to PCOS management resulting in inconsistent care.
'Therefore, multiple specialties involved in the diagnosis and management of PCOS, including GPs, paediatricians, fertility specialists and endocrinologists, along with women with PCOS, were involved in the guideline development,' Professor Teede said.
Key changes in the guideline include a more limited role for ultrasound in diagnosis, which is now a third-line diagnostic investigation and not required for women who have both clinical or biochemical hyperandrogenism and menstrual irregularity. However, in adult women with just one of these features, ultrasound is needed for diagnosis, Professor Teede said.
In young women within eight years of menarche, both hyperandrogenism and menstrual irregularity are needed to diagnose PCOS, and ultrasound is not recommended due to lack of specificity. Professor Teede said young women with one feature alone could be informed that they are at risk of PCOS and should be reassessed in the future.
The most commonly prescribed combined oral contraceptive pill (35 mcg ethinyl-estradiol plus cyproterone acetate) is no longer recommended as first-line therapy in PCOS due to lack of superior efficacy and risk of adverse effects. Instead, lower-dose, safer oral contraceptive preparations are recommended. 
The guideline also recommends that infertility treatment begins with oral ovulation induction agents as first-line therapy, with gonadotrophin therapy and laparoscopic drilling recommended as second-line options. In vitro fertilisation should be considered as third-line therapy, and is uncommonly needed in PCOS alone, Professor Teede said.
The psychological challenges associated with PCOS and the importance of healthy lifestyle measures are strongly emphasised in the guideline, she said. 
'Everyone, without exception, needs lifestyle intervention and monitoring to prevent excess weight gain.'
Widespread translation of the guideline was crucial, she said, with a range of co-developed resources available for patients and health professionals, including a GP Tool and patient app, AskPCOS (https://www.monash.edu/medicine/sphpm/mchri/pcos).
Fertil Steril 2018; 110: 364-379.