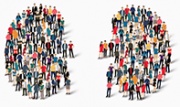 New tool to predict five-year risk of chronic kidney disease
By Melanie Hinze
New validated equations have been developed to predict the five­-year risk of incident chronic kidney disease in diverse populations.
The equations were developed by the Chronic Kidney Disease Prognosis Consortium (CKD­PC), a global collaboration led by researchers at the Johns Hopkins Bloomberg School of Public Health, USA, and described in a recent JAMA article.
The team used data from 34 multinational cohorts, compris­ing more than four million adults without diabetes and almost 800,000 adults with diabetes. Included patients were from 28 countries, of variable ages and ethnicities, and both men and women. The researchers used these data to develop equations that predicted the five­-year risk of developing reduced estimated glomerular filtration rate (eGFR), using the standard definition of less than 60 mL/min/1.73 m2.
Reduced eGFR developed in 15% of people without diabetes during a mean follow up of 4.2 years and in 40% of those with diabetes during a mean follow up of 3.9 years.
Based on these data, separate equations were developed for people with diabetes and for those without. Both included age, sex, race/ethnicity, eGFR, history of cardiovascular disease, ever smoker, hypertension, body mass index and albuminuria concentration. For participants with diabetes, they also included diabetes medications, haemoglobin A1c and the interaction between the two.
The resulting risk equations were shown to demonstrate an excellent ability to distinguish an individual's likelihood of developing an eGFR of less than 60 mL/min/1.73 m2 during follow up. The models were also shown to be adequately calibrated to actual risk.
Study coauthor, Professor Steve Chadban, Director of Renal Medicine at the Royal Prince Alfred Hospital and Sydney Local Health District and Leader of Kidney Node at the Charles Perkins Centre, University of Sydney, said that the equations used commonly available clinical, lab and demographic data that would be available to most medical practitioners caring for patients in the community.
'The equations will therefore be useful for predicting chronic kidney disease in general practice, enabling identification of people who warrant close scrutiny and risk factor modification to prevent kidney disease.'
'The equations may also be useful for future research and epidemiology applications', he added.
The authors wrote that further study was needed to determine whether the use of these equations would improve patient care and clinical outcomes.
The risk calculators are available on the CKD­PC website (http://www.ckdpcrisk.org).
JAMA 2019; doi:10.1001/jama.2019.17379.