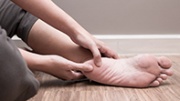 © CATINSYRUP/SHUTTERSTOCK
No clear advantage for custom orthoses for plantar heel pain
By Bianca Nogrady
Custom-made orthoses for the treatment of plantar heel pain offer no significant advantages over prefabricated orthoses or other common treatments, a systematic review and meta-analysis has concluded.
Writing in the British Journal of Sports Medicine, researchers analysed 20 randomised controlled trials reporting the effect of foot orthoses on pain, function and self-reported recovery of patients with plantar heel pain.
In pooled analysis of five studies, there were no significant differences between custom-made and prefabricated orthoses in short-term pain, although one study reported a twofold higher odds of self-reported recovery with prefabricated orthoses.
Two studies comparing prefabricated with sham orthoses showed no significant differences in short- or long-term pain.
The researchers also compared pooled data from custom-made and prefabricated orthoses with the sham orthoses and found no significant differences in short-term function (zero to three months).
They also found no differences between orthoses and night-splints, stretching exercises, magnetic orthoses, chiropractic manipulation or other types of footwear. Corticosteroid injections were associated with greater short-term improvements but these were not maintained in the medium term.
'Most studies reported a significant improvement over time in patients treated with orthoses as well as patients treated with other conservative interventions,' the researchers wrote.
Sports podiatrist Dr Kade Paterson said the study showed that, for most people with plantar heel pain, there was little benefit in custom orthoses versus prefabricated or over-the-counter orthoses.
'It also found that orthoses and insoles were just as effective at improving pain as a number of other common treatments like foot taping, although other strategies such as corticosteroid injections and splinting can also be associated with adverse events and recurrence of symptoms,' said Dr Paterson,from the Centre for Health, Exercise & Sports Medicine at The University of Melbourne, and Lakeside Sports Medicine Centre, Melbourne.
However, he said the large variation in outcomes between studies suggested subgroups of patients might be more likely to benefit from orthoses, while others might respond better to other forms of treatment.
'Orthoses should be used as part of a multifaceted approach to treating plantar heel pain,' Dr Paterson told Medicine Today.
Br J Sports Med 2018; doi:10.1136/bjsports-2017-097892.