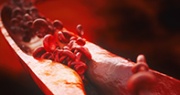 Non-HDL cholesterol levels predict long-term CVD risk
By Melanie Hinze
Non-HDL cholesterol may be a valid measure of predicting long-term cardiovascular disease (CVD) risk, particularly in those aged less than 45 years, an Australian expert told Medicine Today.
Leon Simons, Associate Professor of Medicine UNSW Sydney and Director of the Lipid Research Department, St Vincent's Hospital Sydney, was speaking about a large multinational risk evaluation and risk modelling study.
Published recently in the Lancet, the study used Multinational Cardiovascular Risk Consortium data from 19 countries across Europe, Australia and North America. A total of 398,846 individuals from 38 cohorts were followed for a maximum of 43.6 years (median 13.5 years) between 1970 and 2013.
The study authors reported 30-year CVD event rates to be three to four times higher in men and women in the highest non-HDL cholesterol category (5.7 mmol/L or above) than in those in the lowest category (less than 2.6 mmol/L).
The lowest hazard for CVD was found in those with the lowest non-HDL cholesterol concentrations and a continuous and linear increase was seen as non-HDL cholesterol concentrations increased.
The study authors also developed a tool to estimate the long-term probability of CVD by age 75 years, based on an individual's non-HDL cholesterol levels. They found the highest long-term risk of CVD was in individuals aged younger than 45 years. They also found that a 50% reduction in non-HDL cholesterol concentrations was associated with reduced CVD risk by the age of 75 years, and this risk reduction was greater the earlier cholesterol concentrations were reduced.
Associate Professor Simons, who contributed Australian data and was coauthor on the paper, said that numerous individual studies and meta- analyses had confirmed the importance of LDL cholesterol in predicting future CVD and the benefits of lowering LDL. However, he said there was a need to fast patients in order to calculate LDL cholesterol.
'Total and HDL cholesterol can be reliably measured in non-fasting bloods, hence an increasing interest in non-HDL cholesterol, which includes all atherogenic lipoproteins,' he said.
'While the current report relied essentially on fasting sampling, this very large meta-analysis confirmed that non-HDL cholesterol is also a valid measure of long-term CVD risk,' he added.
The authors concluded that this study provides unique insights into the benefits of a potential early intervention in primary prevention.
'Future research needs to address many related questions, including whether intervention in young people with a high lifetime risk but low 10-year risk would yield greater benefits than late intervention,' they wrote.
Lancet 2019 https://doi.org/10.1016/S0140-6736(19)32519-X.