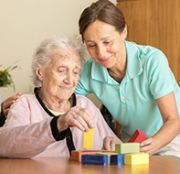 © FREDFROESE/ISTOCKPHOTO.COM MODELS USED FOR ILLUSTRATIVE PURPOSES ONLY
Nondrug treatments more effective than drug treatments for depression in dementia
By Dr Emily Lathlean MB BS, FRACGP
A systematic review and network meta-analysis (NMA) has found nondrug interventions to be more efficacious than drug interventions in reducing symptoms of depression in patients with dementia without a major depressive disorder (MDD).
Of 256 eligible randomised controlled trials, Canadian researchers selected 213, which assessed interventions for depression in 25,177 people with dementia without a diagnosis of a MDD, for pairwise meta-analysis and NMA.
Their analyses, which were published in The BMJ, found that 10 interventions were more effic­acious in reducing symptoms of depression in these patients than usual care. These were animal therapy, cognitive stimulation, exercise, massage and touch therapy, reminiscence therapy, multidisciplinary care, occupational therapy, cognitive stimulation and a cholinesterase inhibitor, exercise combined with social interaction and cognitive stimulation, and psychotherapy combined with reminiscence therapy and environmental modification.
No drug intervention alone was found to be more efficacious than usual care.
Dr Terence Chong, Senior Research Fellow at the Academic Unit for Psychiatry of Old Age, University of Melbourne and St Vincent's Hospital Melbourne, welcomed the findings.
'Depressive symptoms are very common in dementia and thus this study has great clinical relevance and importance in guiding treatment,' he said.
University of Melbourne CR Roper Senior Research Fellow Dr Amit Lampit, an expert in meta­-analysis, said he had little concerns about the design, conduct and results from a methodological point of view. However, he noted the absence of league tables comparing the interventions head-to-head, as well as with different types of control.
Dr Chong speculated that the heterogeneity of treatments and control conditions (i.e. 'usual care' or placebo) made it difficult to do head-to­-head comparisons.
According to Dr Chong, the study findings supported current guidelines to use nonpharmacological strategies as first­line treatment for patients with depressive symptoms in the setting of dementia. He said the study highlighted the need for more research in the setting of MDD in patients with dementia.
'Our findings suggest a high probability that people with dementia will derive a clinically meaningful benefit from nondrug interventions', the researchers wrote, which they said carried additional benefits of improved social engagement in the community and reduced harm associated with antidepressant use (e.g. from falls and fractures).
The researchers advocated that everyone, including people with dementia, caregivers, clinicians and policy makers, had a role in translating their finding into practice.
BMJ 2021; 372: n532 http://dx.doi.org/10.1136/bmj.n532.