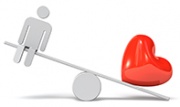 © TSURUKAME/DESIGN/SHUTTERSTOCK
Obesity paradox in heart failure
By Bianca Nogrady
Although obesity is associated with an increased risk of developing heart failure, an 'obesity paradox' is evident with respect to cardio vascular (CV) mortality in heart failure, a meta-analysis has found.
Writing in Heart, researchers analysed data from 29 studies reporting on the association and prognostic impact of obesity in heart failure, as well as assessing the cardiac effects of weight loss following bariatric surgery.
Researchers analysed nine studies, including 375,056 patients, that assessed the relation between obesity and the development of heart failure. They found the risk of incident heart failure was 22% higher in underweight, 11% higher in overweight, 62% higher in obese and 73% higher in severely obese individuals compared with normal weight individuals.
Eleven studies, which pooled data from 41,019 patients, looked at the impact of obesity on CV and all-cause mortality in individuals with heart failure, and analysis revealed a 'U'-shaped association curve. The hazard ratios for CV mortality were 20% higher among underweight individuals compared with those at normal weight, but were not significantly higher among individuals who were overweight or obese.
Study coauthor and cardiologist Dr Michael Stokes from the Royal Adelaide Hospital and Centre for Heart Rhythm Disorders at the University of Adelaide, said this finding should not be interpreted as a reason to tell obese heart failure patients not to lose weight. 'There are multiple and varied reasons why an individual obese patient may have better prognosis than another individual underweight patient,' Dr Stokes told Medicine Today.
For example, atrial fibrillation (for which obesity is a risk factor) can cause a form of heart failure with a less lethal clinical course compared with other forms of heart failure such as familial dilated cardiomyopathy, which might be evident in a higher proportion of underweight or normal-weight individuals.
Unintentional weight loss may reflect a progressive state of heart failure with an associated pro-inflammatory state.
The meta-analysis also reported data from nine studies that explored the impact of weight loss after bariatric surgery in patients without heart failure.
This intentional weight loss was significantly associated with reduced left ventricular (LV) mass index, improvements in LV diastolic function and reduced left atrial size, as well as nonsignificant improvements in LV ejection fraction.
Dr Stokes said the findings reaffirmed the complex relation between heart failure and obesity. He also suggested management of these patients could be complex and needed to be individualised, such as medication readjustment for obese patients with heart failure who have undergone bariatric surgery.
Heart 2019; doi:10.1136/heartjnl-2019-314770.