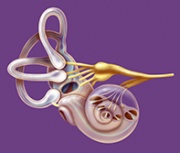 Online vestibular rehabilitation program shown to improve symptoms
By Nicole MacKee
A free online vestibular rehabili­tation program can help to reduce chronic vestibular symp­toms in older adults, resear­chers have reported in The BMJ.
In a three-­armed randomised controlled trial of more than 300 people (aged 50 years and over) attending general practice clinics in The Netherlands, online vestibular rehabilitation was compared with online rehabilitation supported by two face-­to­-face physiotherapy sessions, and with usual care.
Participants in the inter­vention arms signed up to weekly online sessions with the UK­-developed Balance Retraining program over six weeks (https://balance.lifeguidehealth.org/). They were instructed in six core vestibular rehabilitation exercises, which they were required to perform for 10 minutes twice daily.
The researchers found that participants in both the stand­ alone and supported rehabili­tation groups reported greater improvements in vestibular symptoms at six months than those in the usual care group (adjusted mean difference of −4.1 points on the vertigo symptom scale­ short form, where a difference of 3 or more points is deemed to be clinically relevant).
The study builds on a UK randomised controlled trial that also found that the online program effectively reduced vestibular symptoms in primary care.
Dr Jasmine Menant, Research Fellow at the NeuRA Falls, Balance and Injury Research Centre and Conjoint Lecturer at UNSW Medicine, Sydney, said about 5% of Australians experienced chronic vestibular symptoms and there was scope for improved management.
She said the Balance Retrain­ing program was simple to use and included a questionnaire to aid in the identification of the people whose dizziness was caused by a chronic vestibular impairment, other than benign paroxysmal positional vertigo.
'We have some good scienti­fic evidence from Cochrane Reviews showing that this type of vestibular rehabilitation – whether it's internet based or not – is effective in reducing vestibular impairment,' she said. 'It's now about making these programs widely available, and hopefully an internet-based program will do that.'
Dr Menant added, however, that improved management of vestibular symptoms was just one piece of the puzzle in better managing dizziness among older Australians.