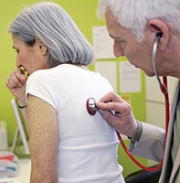 Oral corticosteroids of no use in acute lower respiratory tract infections without asthma
By Bianca Nogrady
Oral corticosteroids do not have any impact on the duration or severity of acute lower respiratory tract infections in adults without underlying asthma, researchers say. 
The researchers conducted a randomised, placebo­-controlled trial in 54 family practices in England involving 398 adults with acute cough and at least one lower respiratory tract symptom not requiring immediate antibiotic treatment and who had no history of chronic obstructive pulmonary disorder (COPD) or asthma in the past five years. Participants were randomised to oral prednisolone (two 20 mg tablets) or matched placebo taken once daily for five days. 
The study, published in JAMA, found the median duration of 'moderately bad or worse' cough was five days in both groups. There was a borderline significant 0.20 point difference in symptom severity – representing a relative reduction of 9.3% – favouring the prednisolone group. 
However, the oral corticosteroids did not appear to have any significant effects on the duration or severity of other symptoms, the duration of abnormal peak flow up to 28 days, cough duration up to 56 days, antibiotic use or other nonserious adverse events.
'The trial also contributes to a growing body of evidence suggesting that systemic and topical corticosteroids have a limited role in the treatment of common infections and their post infectious complications in primary care,' the researchers wrote. 
'This contrasts with an increasing number of studies suggesting that corticosteroids are effective for secondary­-care patients with community acquired pneumonia, croup, acute sinusitis, and severe sore throat.' 
Commenting on the study, respiratory physician Dr Jonathan Burdon said the findings made a useful contribution to arguments against the use of oral corticosteroids in patients without underlying asthma. 'One of the traps is that people with acute lower respiratory tract infection usually wheeze, and so there's a tendency to assume that wheeze means asthma which means steroids,' said Dr Burdon, from St Vincent's Private Hospital in Melbourne. 
Dr Burdon told Medicine Today that the only time corticosteroids may be useful is in patients with COPD where there was a 'reversible element', 'but then you might argue they've got an asthmatic component and therefore you'd give it for that.'
JAMA 2017; 318: 721-730. 
Picture credit: © Lydie Stock/stock.adobe.com 
Models used for illustrative purposes only