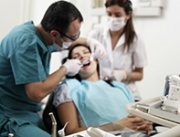 Oral health and attachment insecurity – study looks for answers
By Jane Lewis
Adult attachment insecurity – previously associated with diminished health-related quality of life for people with inflammatory bowel disease, breast cancer and lupus erythematosus – also appears to be linked with decreased oral health-related quality of life (OHRQoL), Australian research published in
Quality of Life Research
suggests.
Speaking to Medicine Today, lead author Dr Pamela Meredith, School of Health and Rehabilitation Sciences, The University of Queensland, said it was important to understand that people come to medical and dental situations with their own individual history and personality-related influences that can strongly impact their engagement with the service being provided.
'If people have felt unsupported in their early developmental years, and particularly if they have been exposed to trauma, they will have developed coping strategies and behaviours that may not be very conducive to good health,' she explained. 'They may avoid contact with health professionals for fear of judgement or pain, or they may avoid health professionals because they don't trust anybody.'
'If we are aware of these types of issues, perhaps we can structure health service provision in a way that is more supportive,' she said. 'For example, trauma informed care uses a very person-centred and recovery-focused model that allows for people to have much more control over their care.'
The cross-sectional study was based on a sample of 265 healthy adults (median age, 26 years; 75% female), with overall favourable oral health status. Analysis showed attachment insecurity to be associated with decreased OHRQoL in relation to overall wellbeing and, more specifically, to the more psychosocial and functional aspects. Attachment insecurity was also associated with less adaptive dental visiting patterns, and lower self-rated oral health.
'These findings underscore the potential value of adopting adult attachment as a theoretical framework for understanding a range of oral health-related parameters,' the authors concluded.
'This is an area of research that's starting to gain momentum,' commented Dr Meredith. 'There is already quite a body of literature that links attachment insecurity with pain, and we are now doing more research in the oral health field.'
Qual Life Res 2016; doi 10.1007/s11136-015-1089-1.
Picture credit: © Kemalbas/iStockphoto. Models used for illustrative purposes only.