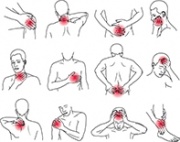 © VIKIVECTOR/SHUTTERSTOCK
Pain tolerability questioning compared with 10-point scale for chronic pain
By Melanie Hinze
Asking patients with chronic pain about their pain tolerability could more effectively align patient expectations with realistic outcomes than using numeric pain rating scales alone, according to a US study published in the Journal of the American Medical Association.
Professor Michael Nicholas, Director of Pain Education and Pain Management Programs at The University of Sydney's Pain Management Research Institute, told Medicine Today that the study authors correctly recognised that total pain relief was an unrealistic goal for most patients with chronic pain. He said that many experts had pointed out that rating chronic pain on a 0 to 10 scale of severity could imply that having 'no pain' was an attain­able goal. He also said it is not realistic to assume the complex experience of chronic pain could be adequately repre­sented by a single number.
The study included 663 patients who attended primary care practices from December 2016 to March 2017 and had an active prescription for an analgesic medication or a diagnosis associated with chronic pain. In an electronic survey, the patients were asked if their pain was tolerable, with possible answers, yes, no, or not in pain. They were then asked to rate pain severity during the prior 24 hours on a 0­- to 10­-point scale.
No patients who rated their pain severity as 1 to 3 on the 10­-point scale reported that their pain was intolerable. Among patients who rated their pain as 4 to 6, 19.0% reported their pain as intolerable and in those who rated their pain as 7 to 10, 52.6% rated it as intolerable.
The authors noted that the tolerability of pain rated between 4 and 6 varied substantially between patients.
'In this middle range, if a patient describes pain as tolerable, this might decrease the clinician's inclination to initiate higher risk treatments,' they wrote.
Professor Nicholas said this research 'presents an opportunity for consideration of an alternative approach to evaluating outcomes for patients with chronic pain.'
He added, however, that it was not without its problems and questioned whether tolerability could be a binary (yes/no) quality.
'Many might argue that tolerability may be better represented by a 0 to 10 scale,' he said. 'This was not tested in this study, but it will need to be considered in future research,' he added.
JAMA Network Open 2020; 3: e203155; doi:10.1001/jamanetworkopen.2020.3155.