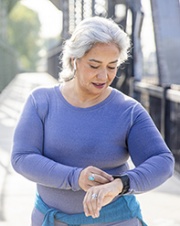 ADAMKAZ/ISTOCKPHOTO.COM MODEL USED FOR ILLUSTRATIVE PURPOSES ONLY
Physical activity levels boosted by fitness apps and activity trackers
By Nicole MacKee
Fitness apps and wearable activity trackers are effective in boosting users' physical activity levels, a new international review shows.
A systematic review and meta-analysis, led by Australian researchers and published in the British Journal of Sports Medicine, found that using mobile apps or activity trackers for an average of 13 weeks resulted in an activity increase of 1850 steps a day.
The researchers evaluated 35 studies with 7454 participants (28% women). Participants were aged 18 to 65 years and did not have a chronic disease at baseline.
Lead author Dr Liliana Laranjo, Research Fellow at The University of Sydney's Westmead Applied Research Centre, said several studies had already shown that, when it came to health benefits, any amount of physical activity was better than none.
Dr Laranjo pointed to a JAMA Internal Medicine study that had shown that women who walked an average of 4400 steps per day had a 41% lower mortality rate than those who walked 2700 steps per day, a difference of 1700 steps a day. This suggested, she said, that the increase of 1850 steps a day associated with the use of apps and trackers shown in this review could have significant public health benefits.
'This level of increase has the potential to lower the risk of chronic diseases, such as cardiovascular disease, diabetes and some types of cancer, as well as improve quality of life and reduce the risk of premature death,' Dr Laranjo said.
Interventions that incorporated text messaging or personalisation features were found to be particularly beneficial, the researchers noted.
'Personalisation may increase the relevance of the intervention to each individual, beyond what is possible with one-size-fits-all interventions,' Dr Laranjo said. 'Text-messaging enables prompting and cueing individuals regarding physical activity, which is known to be important for behaviour change.'
Dr Laranjo said Australian clinicians could recommend apps and activity trackers to patients who were seeking to increase their physical activity.
'Smartphones have embedded sensors that can count the number of steps and minutes exercised,' she said. 'Using an app to easily track those numbers and try to achieve specific goals can help patients become more active.'
Dr Laranjo said many people became frustrated when trying to achieve a popular goal of 10,000 steps per day, but even small increases in physical activity could be beneficial.
'Starting low and progressing slowly, continuously monitoring the progress and receiving feedback from the app/tracker can lead to significant changes in overall physical activity throughout time,' she said. 'Busy clinicians may leverage these tools to help their patients become more physically active.'
Br J Sports Med 2020; 0: 1-13; doi:10.1136/bjsports-2020-102892.