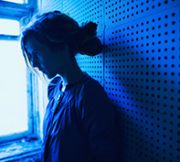 © SUN OK/SHUTTERSTOCK. MODEL USED FOR ILLUSTRATIVE PURPOSES ONLY
Poor outcomes in many young people using early intervention mental health services
By Dr Emily Lathlean MB BS, FRACGP
A longitudinal observational study has found two in three young people with emerging mental health disorders did not experience meaningful improvement in social and occupational functioning during two years of early intervention care.
In the study, published in the Medical Journal of Australia, researchers studied 1510 people aged 12 to 25 years who had presented to two Australian primary care-based early intervention mental health services with anxiety, mood or psychotic disorders, for whom two years' follow-up data were available. Social and occupational functioning was evaluated, based on Social and Occupational Functioning Assessment Scale scores.
Four trajectories of functioning were identified: deteriorating and volatile; persistent impairment; stable, good functioning; and improving but with late recurrence. Only 19% of participants were found to have stable, good functioning. Half (49%) of participants had deteriorating and volatile functioning, 16% had persistent impairment and 16% had improving functioning but with late recurrence.
'The findings ... are sobering, and clearly illustrate what else is needed,' wrote Professor Patrick McGorry, Professor of Youth Mental Health at the University of Melbourne and Executive Director of Orygen Youth Health, Melbourne, in his editorial piece for the same issue of the Medical Journal of Australia.
'While primary care-based models offering soft entry to care for all young people is effective for some, it is clearly insufficient for most young people with more substantial needs,' wrote Professor McGorry, who is also a founding Director of headspace (Australia). 'They require more sustained, expert and multidisciplinary care to deal with evolving and ambiguous symptomatology, substantial comorbidity, and social and vocational impairment.'
The researchers found that factors associated with the less favourable trajectories included the absence of employment, education or training; a history of a physical comorbidity or hospitalisation; a history of substance-related disorders; and a history of childhood-onset mental disorders, psychosis-like experiences, or a history of self-harm or suicidality.
Professor McGorry called for services to stream, fast-track and augment the clinical care of more complex cases, and noted that evidence-based templates for delivering community-based care for such patients already existed, in the form of early psychosis programs at headspace.
'In addition to those with emerging psychosis, young people with mood, personality, eating, and substance use disorders or comorbid blends can be offered more sustained evidence-based care in a timely fashion,' he wrote. 'This early intervention platform should now be rapidly installed across the nation as an overdue back-up system for assisting the hundreds of thousands of "missing middle" young people, currently locked out of state government services, yet manifestly unable to benefit from primary care alone.'
Med J Aust 2021; doi 10.5694/mja2.51308.
Med J Aust 2021; doi: 10.5694/mja2.51327.