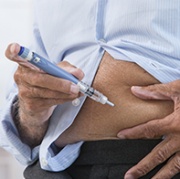 Poorer glycaemic control in diabetes after pancreatic disease
By Bianca Nogrady 
Adults who develop diabetes after pancreatic disease often have poorer glycaemic control and require more insulin compared with those with type 2 diabetes, according to a study published in Diabetes Care.
Researchers examined the primary care records of 2,360,631 individuals in the UK to identify 31,789 new diagnoses of adult-onset diabetes between 2005 and 2016. Of these, 599 were cases of diabetes type 3c – diabetes of the exocrine pancreas – making it significantly more common than type 1 diabetes (2.59 cases per 100,000 person-years vs 1.64 cases per 100,000 person-years). However, only 2.7% of these patients had been diagnosed with 'diabetes of the exocrine pancreas', and instead 87.8% of the cases identified had been classified by clinicians as type 2 diabetes.
Patients with diabetes after pancreatic disease were 70% more likely to have poor glycaemic control compared with those with type 2 diabetes. They were also significantly more likely to require insulin within five years; the rates of insulin use were 4.1% among those with type 2 diabetes, 20.9% among those with diabetes after acute pancreatitis and 45.8% among patients who developed diabetes after chronic pancreatic disease.
'Whether all diabetes that develops after pancreatic disease should be managed according to recommendations for diabetes of the exocrine pancreas or whether some patients would be appropriate for standard type 1 or type 2 diabetes management pathways is an area that requires further study,' the researchers wrote.
Commenting on the findings, endocrinologist Professor Jonathan Shaw said the study was a good reminder that diabetes of the exocrine pancreas is not uncommon, and that it likely follows a different disease course from that of type 1 or type 2 diabetes.
However, he questioned the study's assertion that most patients were misclassified, pointing out that a diagnosis of type 3c diabetes was not always straightforward or obvious for clinicians.
'A person who has had exocrine pancreatic disease may subsequently develop secondary diabetes due directly to that disease or they might develop common or garden variety type 2 diabetes but on a background of a damaged pancreas,' said Professor Shaw, who is Deputy Director (clinical and population health) at Baker Heart and Diabetes Institute, Melbourne.
Professor Shaw told Medicine Today that in either of these cases, it could be expected that the disease would progress more rapidly than the typical case with type 2 diabetes. He also stressed the importance of avoiding certain diabetes medications in patients with pancreatic disease, such as the glucagon-like peptide-1 receptor (GLP-1) analogues.
Diabetes Care 2017; 40: 1-8; https://doi.org/10.2337/dc17-0542.
Picture credit: © JPC­-PROD/Shutterstock