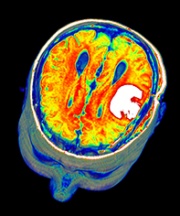 Possible link between rosacea and glioma
By Bianca Nogrady
A large cohort study has found a small but significant increase in the risk of glioma among individuals with rosacea. 
The Danish nationwide study in more than five million individuals – 68,372 of whom had rosacea and 21,118 of whom developed glioma – found those who were diagnosed with rosacea by a hospital dermatologist had a 93% greater risk of glioma than those without rosacea. After adjusting for age, sex and socioeconomic status, the increased risk for glioma in those with rosacea declined slightly to 82% but still remained significant. 
Men with rosacea appeared to be at greater risk of develop­ing glioma than women with rosacea, despite the fact that both rosacea and glioma are more common in women, the authors noted in their study findings, published online in JAMA Dermatology. The risk of glioma was similar for patients with mild and moderate, or severe rosacea.
The analysis also showed that the mean time from onset of rosacea to the diagnosis of glioma was actually shorter (4.3 years) in those with mild disease compared with those with severe disease (5.6 years). 
The authors suggested that matrix metalloproteinases (MMPs ) – enzymes involved in tissue remodelling, organ development and regulation of inflammatory processes – were a possible link between rosacea and gliomas. 'Increased activation and expression of certain MMPs in skin with rosacea, in particular in ocular and phymatous rosacea, have been identified previously,' they wrote. 'Increased expression of MMPs has also been associated with neuroinflammation and gliomas [and] MMPs appear to play an important part in glioma invasion, dissemination, and angiogenesis.' 
Cancer epidemiologist Professor Graham Giles said this was a new and exciting finding that warranted further study. 
'One avenue that we might explore is to look at whether people who get glioma and those who get rosacea show some polygenic profile that might then be useful in identifying people at risk,' said Professor Giles, Head of the Cancer Epidemiology & Intelligence Division of Cancer Council Victoria. 
'These MMPs are manu­factured by a whole family of genes and we have struggled to find very simple and strong genetic risks for glioma and for many other cancers,' he said. 
Professor Giles told Medicine Today that the large nationwide medical registries in place in countries such as Denmark provided a unique opportunity to find patterns and generate hypotheses that might otherwise be too difficult to find. 
JAMA Dermatol 2016; doi:10.1001/jamadermatol.2015.5549.
Picture credit: © Alfred Pasieka/SPL.