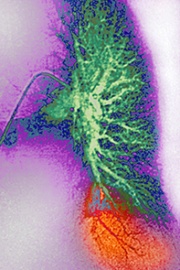 © CAVALLINI JAMES/BSIP/SPL
Postoperative pulmonary embolism: how long does its risk persist?
By Nicole MacKee
Pulmonary embolism (PE) risk may remain elevated for at least 12 weeks after surgery, according to French research that has found increased risk even after minor procedures.
In a case-crossover study of more than 60,000 patients (aged 45 to 64 years), published in JAMA Surgery, researchers found that the postoperative risk of PE was increased for at least 12 weeks for six types of surgery (vascular surgery, gynaecological surgery, gastrointestinal surgery, hip or knee replacement, fractures and other orthopaedic operations).
The risk was highest in the immediate postoperative period (one to six weeks after surgery), with odds ratios ranging from 5.24 for vascular surgery to 8.34 for surgery for fractures. From weeks seven to 12, the risk remained elevated, with odds ratios ranging from 2.26 for gastrointestinal operations to 4.23 for surgery for fractures.
Associate Professor Huyen Tran, Director of the Clinical Thrombosis Service at the Australian Centre for Blood Diseases, Monash University, and Alfred Health, Melbourne, said it was concerning to see the increased risk associated with relatively minor low-risk procedures.
'A minor procedure like gastrointestinal tract biopsy accounted for 399 cases [in the French study], and this is a procedure where a patient goes home the next day,' he said. 'So that concerns me.'
Although Associate Professor Tran said the study was 'fantastic' methodologically, one limitation was its reporting of odds ratios.
'If a relatively well person is having surgery, the absolute risk of venous thromboembolism (VTE) is approximately 1%. Giving that person antithrombotic treatment will reduce that risk even further, but you may get more bleeding,' he said. 'So, there is a trade-off there and we need to be careful.'
Associate Professor Tran added that the research evaluated only the risk associated with the procedure, and it was important to also account for individual patient factors when assessing VTE risk.
'If a patient has what appears to be a low-risk procedure, but has had a PE before, is obese and might be on the pill, they would be a high-risk patient. So, we look at the risk collectively – the risk associated with the surgery plus the risk associated with the patient,' Associate Professor Tran told Medicine Today.
This risk is also dynamic, he said. 'When a patient comes into hospital, they may be low risk for the first few days, but if their situation changes – perhaps they need a different procedure – they need to have their VTE risk reassessed because their risk may change over time.'
Associate Professor Tran said the study reinforced the need for Australia to develop new clinical guidelines for the prevention of VTE. The previous guidelines were rescinded in 2016. Last year, the Australian Commission on Safety and Quality in Health Care launched the VTE prevention clinical care standard.
JAMA Surg 2019; doi:10.1001/jamasurg.2019.3742.