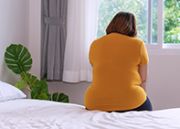 © KAEWMANEE JIANGSIHUI/ SHUTTERSTOCK MODEL USED FOR ILLUSTRATIVE PURPOSES ONLY
Prediabetes linked to increased rate of major depressive disorder
By Melanie Hinze
Clinically significant pre-diabetes may be linked to an increased rate of major depressive disorder diagnosis, according to research published in the American Journal of Psychiatry.
The study authors recruited 601 participants, aged 18 to 65 years, with no history of depression or anxiety from the Netherlands Study of Depression and Anxiety (NESDA).
They assessed three indirect measures of insulin resistance – high triglyceride-to-HDL- cholesterol ratio; prediabetes, as indicated by fasting blood glucose level; and high central obesity, as measure by waist circumference – with follow up at two, four, six and nine years.
Fourteen percent of participants developed major depressive disorder during follow up. Higher triglyceride-to-HDL ratio, fasting blood glucose level and waist circumference were all positively associated with an increased risk of incident major depression. In particular, a one-unit change in triglyceride-to-HDL ratio corresponded to an 89% increase in the rate of incident major depressive disorder during the nine-year follow-up period.
'Our results suggest that a surrogate of insulin resistance, a highly prevalent condition that may precede the development of type 2 diabetes by several years, may predict the development of major depressive disorder in adults,' the authors wrote.
They also found that participants who developed pre-diabetes (fasting blood glucose level 5.54 mmol/L or higher) in the two-year period after study enrolment had 2.66 times the risk of developing a major depressive disorder compared with those with normal fasting glucose level at two years. No similar associations were found with high triglyceride-to-HDL ratio or high central adiposity during the same period.
Professor Philip Mitchell, Scientia Professor and Head of the School of Psychiatry at the UNSW Sydney, told Medicine Today there was a well-documented association between depression and diabetes, obesity and vascular disease.
'While this was not a treatment study, it suggests that early treatment of insulin resistance is beneficial for reducing the later onset of depression, even prior to the development of frank diabetes or obesity,' he said. 'GPs should consider this potential benefit of early treatment, in addition to the well-known benefits of reducing the likelihood of later physical morbidity and mortality,' he added.
Am J Psych 2021; doi: 10.1176/appi.ajp.2021.20101479.