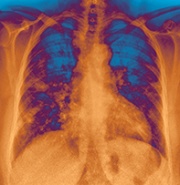 Predicting pneumonia: four simple signs can determine antibiotic need
By Jane Lewis
Four easily measured clinical signs could help primary care clinicians accurately diagnose pneumonia in patients presenting with symptoms of lower respiratory tract infection (LRTI), suggest the findings of a large prospective study published in the European Respiratory Journal. 
If antibiotic prescribing was restricted to people with one or more of these clinical signs, antibiotic use for pneumonia could be substantially reduced, the researchers suggested. 
Speaking to Medicine Today, Associate Professor Lucy Morgan, respiratory physician at Concord Repatriation General Hospital in Sydney, said pneumonia was an important diagnosis to consider in patients presenting with cough because, although relatively uncommon, it carried significant morbidity and mortality. 
The researchers studied a cohort of 28,883 adult patients (aged 16 years or older) with acute cough attributed to an LRTI, recruited from 5222 UK practices, to assess which clinical features were predictive of radiograph-confirmed pneumonia. 
Of 720 patients sent for x-ray within seven days of consultation, 115 had pneumonia confirmed. In these patients, four significant independent predictors of pneumonia were identified: temperature above 37.8°C (relative risk [RR], 2.6), pulse greater than 100 beats/minute (RR, 1.9), crackles on auscultation (RR, 1.8), and oxygen saturation less than 95% (RR, 1.7). Most patients (86.1%) with pneumonia had at least one of these four clinical signs. The positive predictive value of having at least one sign was 20.2%. 
In contrast, neither patient characteristics (including age, gender, smoking habit and past medical history) nor presenting symptoms (including shortness of breath and sputum colour) were found to provide useful diagnostic information.
The researchers acknowledged that an important limitation of the study was that it relied on routine chest x-ray to confirm diagnosis. 'Clinicians should be aware that the model was derived in those with more severe symptoms referred for radiographs and that effective clinical safety-netting would be needed to cope with missed cases of pneumonia,' they stated. 
Commenting on the clinical implications, Associate Professor Morgan said most patients presenting to GPs with acute cough did not have pneumonia and therefore did not need antibiotics. 'Patients who have an abnormal chest x-ray, in addition to the cluster of clinical signs highlighted in this paper, are the patients who might require antibiotics,' she advised. 
'Having oximetry in primary care is useful, because the absence of hypoxaemia in a patient with suspected pneumonia is reassuring, while the presence of hypoxaemia is one feature that might justify referral to a hospital.'
Eur Respir J 2017; doi.org/10.1183/13993003.00434-2017.
Picture credit: © PR Michel Brauner/SPL