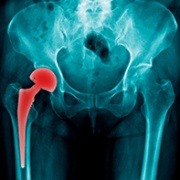 © ANGKHAN/STOCK.ADOBE.COM
Preoperative opioid use linked to high readmission rates after arthroplasty
By Bianca Nogrady
Higher levels of preoperative opioid use are associated with significantly higher readmission and revision rates after hip or knee arthroplasty, according to a paper published in The Journal of Bone and Joint Surgery.
A retrospective cohort study used insurance data to examine outcomes of 483,976 patients who underwent total knee or total hip arthroplasty, followed up at one year or three years.
Researchers found that among patients who under- went total knee arthroplasty, those with more than 60 days of preoperative opioid use had 13% higher odds of readmission to hospital within 30 days of surgery, compared with those with 0 to 60 days of preoperative opioid use.
Among patients who underwent total hip arthroplasty, more than 60 days of preoperative opioid use was associated with significant 46% greater odds of readmission compared with those with fewer than 60 days' preoperative opioid use.
The risks of revision were also about twofold higher at one and three years after total hip arthroplasty in individuals with higher levels of preoperative opioid use. The associations were all independent of potential confounders such as age, sex and comorbidities.
'Given that revision total joint surgery has a major impact on patient morbidity and mortality, identifying and, where possible, mitigating risk factors before primary arthroplasty is performed is of utmost importance,' the researchers wrote.
Commenting on the study, Ms Deanne Jenkin, Research Fellow at the Whitlam Orthopaedic Research Centre, said the findings added to growing concern about the impact of preoperative opioids on knee and hip arthroplasty outcomes, with previous research suggesting an association with worse pain outcomes, increased complications, longer hospital stays and chronic postoperative opioid use.
She told Medicine Today that these harms were possibly underappreciated and there were no policies or routine practices in place to identify those at risk and to minimise harm.
Associate Professor Justine Naylor, from the South Western Sydney Clinical School of UNSW Sydney, said the underlying mechanisms of the association still were not clear, but needed further investigation.
'A prospective study would account for not only actual use, but the reasons for taking the drugs and the reasons for re-admission and revisions,' she said.
J Bone Joint Surg Am 2018; 100: 1171-1176.