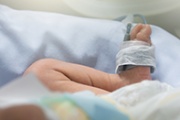 © WANMONGKHOL/STOCK.ADOBE.COM
Preterm birth may be linked to increased type 1 and type 2 diabetes risk
By Melanie Hinze
Preterm birth (gestational age less than 37 weeks) may be associated with an increased risk of both type 1 and type 2 diabetes in childhood (age less than 18 years) and at age 18 to 43 years, according to new research published in Diabetologia.
The large longitudinal population-based cohort study included all 4,193,069 singleton births in Sweden from 1973 to 2014 for whom gestational age was known. Participants were followed up for diagnoses of type 1 or type 2 diabetes to the end of 2015, up to a maximum age of 43 years (median age at follow up, 22.5 years).
Over a total of 92.3 million person-years of follow up, 27,512 (0.7%) and 5525 (0.1%) people were identified with type 1 and type 2 diabetes, respectively.
Gestational age at birth was inversely associated with both type 1 and type 2 diabetes risk. Preterm birth was associated with a 21% and 26% increased risk of type 1 and type 2 diabetes, respectively, at age less than 18 years, and with a 24% and 49% increased risk, respectively, at age 18 to 43 years. The associations between preterm birth and type 2 (but not type 1) diabetes were stronger among females. These associations were only partially explained by shared genetic or environmental factors in families. 
Professor Louise Maple-Brown, Senior Principal Research Fellow at Menzies School of Health Research and Senior Endocrinologist at the Royal Darwin Hospital, said this research added to the increasing body of evidence on the developmental origins of health and disease. It also highlighted the importance for clinicians to recognise the possible contribution of early-life events to their patients' risk of chronic disease, as adults.
'It is relevant to consider asking patients about early-life risk factors when taking a history in an adult to assess their risk of diabetes,' she told Medicine Today.
'This includes asking about birth history and early-life events, including gestational age at birth, birth weight (large or small for gestational age are both risk factors for later chronic disease) and perinatal complications.'
Professor Maple-Brown added that further research was required to determine whether diabetes risk assessment algorithms (such as AUSDRISK) could be strengthened by including early-life factors such as preterm birth, gestational age at birth and birth weight. Additionally, further research was needed to assess whether early-life factors contributed to diabetes risk in mid to late adulthood.
Diabetologia 2019; https://doi.org/10.1007/00125-019-05044-z.