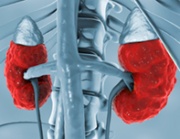 © KATERYNA KON/SHUTTERSTOCK
Preterm birth may be a risk factor for chronic kidney disease
By Bianca Nogrady
Preterm birth appears to be a significant risk factor for the development of chronic kidney disease (CKD) in middle age, according to a population-based cohort study.
Writing in the BMJ, Swedish researchers report their analysis of 4,186,615 singleton live births from 1973 to 2014 – including more than 51,000 very preterm (28 to 33 weeks) and extremely preterm (22 to 27 weeks) births – who were followed for a maximum of 43 years.
Individuals who were born before 28 weeks' gestation had a threefold higher risk of CKD, whereas those born any time before 36 weeks' gestation had a 94% higher risk of CKD. Even individuals born at 37 to 38 weeks' gestation showed a significant 30% higher risk of CKD, compared with those born at full term.
The increase in risk was seen in both men and women, but was slightly greater among women. A co-sibling analysis did not result in any attenuation of the association between preterm birth and CKD.
The researchers noted that preterm birth interrupted the crucial development period for the fetal kidney, which could lead to fewer nephrons and more abnormal glomeruli.
'In addition, potentially nephrotoxic drugs commonly used in the treatment of preterm infants might impair postnatal nephrogenesis,' they wrote.
Commenting on the findings, Professor Martin Gallagher, Professor of Medicine at the Concord Clinical School, The University of Sydney, said they added to previous research linking low birth weight to an increased risk of CKD. However, he said the public health implications of this finding were not yet clear.
'One thing to note across all the preterm birth is the absolute risk of chronic kidney disease is not terribly high and that's why you need data sets of this size to detect an effect,' Professor Gallagher, also Program Director of Acute Kidney Injury and Trials at The George Institute, Sydney, told Medicine Today.
'It's in the extreme preterm where the big effect is seen, so targeting those groups is probably going to be where the most fruitful interventions are.'
BMJ 2019; 365: l1346.