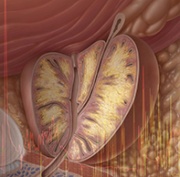 Prostate cancer screening: use MRI before biopsy, study suggests
By Jane Lewis
Using multiparametric magnetic resonance imaging (mpMRI) to triage men with elevated serum prostate specific antigen (PSA) levels could allow 27% of men to avoid an unnecessary prostate biopsy, as well as improve the detection of clinically significant cancer, report the authors of the PROMIS trial, published recently in The Lancet.
'This is a game-changer,' commented Professor Phillip Stricker, Director of St Vincent's Prostate Cancer Centre and Director of the Australian Prostate Cancer Research Centre, who coauthored a comment accompanying the study, pointing out the 'disappointing results' of recent trials of prostate cancer screening and treatment, such as ProtecT (2016). 
'Men now have their "man-o-gram" – the equivalent of the mammogram for women,' he told Medicine Today. 'We never had a really good imaging modality for prostate cancer before, but this changes the whole game.' 
PROMIS is the first study to present blinded data on the diagnostic accuracy of both mpMRI and transrectal ultrasound guided (TRUS) biopsy against an accurate reference test (transperineal template prostate mapping [TPM] biopsy) in biopsy-naïve men with a suspicion of prostate cancer, the authors wrote. It is also 'the largest registered trial to date of the population at risk,' and 'represents level 1b evidence for assessment of diagnostic accuracy.' 
In the UK multicentre study, 576 men with suspected prostate cancer underwent 1.5 Tesla mpMRI followed by both TRUS-biopsy and TPM biopsy. The latter showed that 408 (71%) men had cancer. For clinically significant cancer, detected in 230 (40%) men, mpMRI was found to be both more sensitive (93% vs 48%) and less specific (41% vs 96%) than TRUS-biopsy.
These primary outcome data 'provide a strong argument for recommending mpMRI to all men with an elevated serum PSA before biopsy,' the authors stated.
According to Professor Stricker, the study indicates three clear advantages of using mpMRI as a screening tool: reducing unnecessary biopsies, improving the yield of significant cancers and minimising the chance of a false-negative result.
'Using mpMRI before biopsy will go a long way towards addressing the issues of over-detection and over-treatment,' he said. 'What we need now are trials to work out the most efficient and cost-effective method of early detection of significant prostate cancer.'
Lancet 2017; http://dx.doi.org/10.1016/S0140-6736(16)32401-1.
Lancet 2017; http://dx.doi.org/10.1016/S0140-6736(17)30121-6.
Picture credit: © Science Source/DNA Illustrations/Diomedia.com