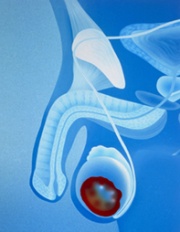 © BSIP, VERONIQUE ESTIOT/SPL
Reassuring findings for men undergoing testicular cancer therapy
By Nicole MacKee
Men diagnosed with testicular cancer can be reassured that oncological therapy will not affect their future children's risk of birth defects, say researchers in PLOS Medicine.
Using data from the Swedish Medical Births Register and the Swedish Norwegian Testicular Cancer Group, researchers evaluated the outcomes for more than two million children born in the 20 years to 2014 and their fathers, 2380 of whom had been diagnosed with testicular germ-cell cancer.
The researchers found no difference in the risk of congenital malformations in children born before or after their fathers' treatment with either chemotherapy (odds ratio [OR], 0.82) or radiotherapy (OR, 1.01).
Dr Ben Tran, Consultant Medical Oncologist at the Peter MacCallum Cancer Centre and the Walter and Eliza Hall Institute of Medical Research, Melbourne, said the findings from this 'massive study' would provide crucial reassurance to young men diagnosed with testicular cancer and their partners.
He said testicular cancer was highly curable, even if it had metastasised, but both the treatment and the cancer itself could have long-lasting physical and psychological effects on young men.
'A lot of our research and patient care is focused on not only maintaining and optimising the high cure rates, but also on minimising treatment and exposure to treatment and thereby reducing the associated short- and long-term side effects,' Dr Tran told Medicine Today.
'Our major goal is to make sure our testicular cancer survivors – of which there are many – go on to live long, normal lives.'
Dr Tran said the potential for fatherhood was an important issue for many young men with testicular cancer, and sperm-banking was encouraged.
Although acknowledging the limitations inherent in large cohort studies, Dr Tran said it would have been helpful to have more data on the use of in vitro fertilisation and on the timing between treatment and conception.
The researchers noted that there was a small increased risk of congenital malformation associated with the cancer itself – 4.4% in children of fathers with testicular cancer compared with 3.5% in children of fathers without testicular cancer. But Dr Tran said such a small risk should not be of concern.
PLoS Med 2019; 16(6): e1002816.