Red meat and diverticulitis – study finds clear link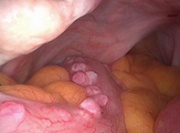 By Jane Lewis
Intake of red meat, particularly unprocessed red meat, is associated with a significantly increased risk of diverticulitis, according to new research published in the BMJ. However, the risk may be reduced by substituting unprocessed red meat with poultry or fish, the study authors concluded. 
'The points made in this large, prospective study are all very valid,' commented gastroenterologist Associate Professor Chris Pokorny, from the South Western Sydney Clinical School UNSW. 'Diverticulitis is a fairly common condition that unfortunately tends to get ignored. It really should be thought of and addressed much more,' he said. 
The US research, which was based on data from the Health Professionals Follow-Up Study, followed 46,461 men aged 40 to 75 years for 26 years. Participants completed questionnaires every four years, indicating how often on average they had consumed red meat, poultry and fish, choosing from responses ranging from 'never or less than once per month' to 'six or more times per day'.
During the monitoring period, 764 men developed diverticulitis. Compared with men in the lowest quintile of red meat consumption, those in the highest quintile had a greater risk of diverticulitis (risk ratio, 1.58), with the increase in risk plateauing after six servings per week. The association was found to be stronger for unprocessed red meat than processed red meat and was independent of fibre intake. Substitution of one serving of unprocessed red meat per day with poultry or fish was associated with a 20% lower risk of diverticulitis.
'Our findings may provide practical dietary guidance for patients at risk of diverticulitis, a common disease of huge economic and clinical burden,' the authors concluded.
In discussing possible mechanisms of action, they suggested that chronic low-grade systemic inflammation may be an essential step, noting that higher red meat intake has also been associated with an increased risk of chronic diseases such as cardiovascular disease, diabetes and cancer. 
'Diverticulitis is thought to be inflammatory, not infection-based,' Associate Professor Pokorny told Medicine Today. 'The use of antibiotics in its treatment is therefore questionable, unless an abscess or other complications develop.' 
BMJ 2016; doi: 10.1136/gutjnl-2016-313082.
Picture credit: © Pr Michel Canis, ISM/SPL. Laparoscopic view of diverticulosis of the colon.