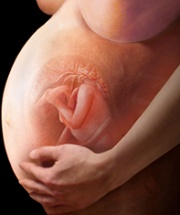 © THE VISUAL BID/SCIENCE SOURCE/SPL
Reducing the risk of gestational diabetes mellitus
By Nicole Mackee
A combination of diet and exercise may help to reduce the risk of gestational diabetes mellitus (GDM), according to an evidence review published in the Cochrane Database of Systematic Reviews, but no clear benefit was found with any of the interventions assessed.
The overview of 11 Cochrane reviews – covering 71 trials with 23,154 women – found 'possible benefit' with diet combined with exercise, and with supplementation with vitamin D or myo­-inositol. The effect of diet or exercise alone, however, was unclear.
Senior author Professor Caroline Crowther, a maternal fetal medicine subspecialist with conjoint appointments at the Liggins Institute at the University of Auckland and the School of Medicine at the University of Adelaide, said the review covered assessments of a range of interventions, including diet, exercise, a combination of diet and exercise, dietary supplements, pharmaceuticals and management of other health problems in pregnancy.
'After extensive review, there are no treatments known to clearly prevent GDM. The most promising treatments, such as dietary and activity advice and use of myo­inositol and vitamin D supplements, require further research to establish their effectiveness,' Professor Crowther said.
In the meantime, she said the findings could support general lifestyle advice.
'This information could be used to support the general lifestyle advice clinicians can provide to pregnant women about the importance of consum­ing a variety of nutritious foods and the safety of undertaking low­- to moderate­-intensity physical activities while pregnant,' Professor Crowther said. She noted that further high­-quality randomised trials were needed to pinpoint specific diet and exercise patterns that show clear prevention benefit.
Professor Crowther said that the information about supplementation with myo­-inositol and vitamin D supplements was limited.
'Further evidence is required before any recommendation should be made for their use in clinical practice for prevention of GDM,' she said. 'Funding high-quality randomised trials for these evaluations should be prioritised.'
Professor Crowther said the prevalence of GDM in Australia was now 15%.
'This has increased threefold over the past 15 years,' she said. 'Factors influencing this increase include changes to the recommendations for making the diagnosis of GDM (now a lower threshold than previously), an increase in the number of pregnant women who are overweight or obese and increase in the average age when women give birth.'
Cochrane Database Syst Rev 2020; (6): CD012394; doi: 10.1002/14651858.CD012394.pub3.