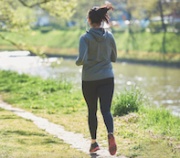 Regular pre-pregnancy exercise reduces pelvic girdle pain during pregnancy
By Bianca Nogrady 
Regular and high-impact exercise before pregnancy is linked to a reduction in pelvic girdle pain, new data suggest.
A population-based Norwegian cohort study of 39,184 women in their first pregnancy showed women who reported exercising three to five times a week before pregnancy had a 14% lower risk of pelvic girdle pain during pregnancy than those who did not exercise at all.
Women who engaged in high-impact exercises such as running, jogging, orienteering, ball games or high-impact aerobics also had a 14% reduction in the risk of pelvic girdle pain, according to the study findings published in the British Journal of Sports Medicine.
Around one in 10 women in the study experienced pelvic girdle pain in week 30 of pregnancy but the prevalence among nonexercisers was significantly higher than among exercisers, and persisted after accounting for confounders such as pre-pregnancy BMI, maternal age, education, history of low back pain and history of depression.
'Both aerobic exercise and resistance training have a hypoalgesic effect on pain in healthy nonpregnant individuals and in chronic pain patients,' wrote the authors, suggesting that this could be one explanation for the reduction in pelvic girdle pain among those who exercised regularly pre-pregnancy.
The authors noted that a history of low back pain or depression was more common among women who experienced pelvic girdle pain. 
Commenting on the findings, Melbourne obstetrician, gynaecologist and fertility specialist Dr Joseph Sgroi said that in his clinical experience, women who maintain good physical exercise habits before and throughout pregnancy generally have less musculoskeletal pain and also cope better with labour. 
'If you're in a situation pre-pregnancy where the body is used to a certain amount of trauma with exercise, the addition of having a baby on board doesn't overly stress it,' said Dr Sgroi, from the Royal Australian and New Zealand College of Obstetricians and Gynaecologists.
Dr Sgroi told Medicine Today that although pregnant women may need to adjust their altered exercise to accommodate for changes such as higher levels of relaxin and to their altered centre of gravity, they should also be encouraged to stay fit.
'If you're used to doing reasonably high impact exercise, you can keep doing it, but listen to your body and modify your activities so you're not putting undue stress on ligaments and joints.'
Br J Sports Med 2015; doi: 10.1136/bjsports-2015-094921.
Picture credit: © .Shock/Deposit Photos.