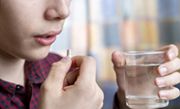 © MIHAIL/STOCK.ADOBE.COM MODEL USED FOR ILLUSTRATIVE PURPOSES ONLY
Review finds limited effectiveness of antidepressants in young people
By Nicole MacKee
Much prescribing of antidepressants for children and adolescents in Australia may be out of step with the current evidence base, a leading child and adolescent psychiatrist says.
Dr Paul Robertson, immediate past Chair of the Royal Australian and New Zealand College of Psychiatrists' Faculty of Child and Adolescent Psychiatry, said the findings of a recent Cochrane Review confirmed the limited effectiveness of antidepressants in this group.
'Antidepressants are being prescribed in increasingly large numbers in young people, both in this country and elsewhere, so it is a significant public health issue,' Dr Robertson told Medicine Today.
'And it would look like a lot of that prescribing is out of keeping with the research evidence base.'
The Cochrane Review included 26 randomised trials that compared the effectiveness and safety of newer generation antidepressants – with each other or with a placebo – in children and adolescents (aged 6 to 18 years) who had been diagnosed with a major depressive disorder.
The authors noted that there were 'small but unimportant' differences between most antidepressants in reducing depressive symptoms (high- or moderate-certainty evidence).
Dr Robertson said the findings suggested that there was a 'distortion' in the way in which depression in children and adolescents was being managed in Australia.
'There should be an emphasis on psychotherapeutic treatment and psychosocial contextual adjustment, including issues like family support, employment, successful educational opportunities, neighbourhood spaces,' he said.
'Antidepressants probably have a role, but a lesser role than is currently the case.'
The Cochrane Review authors emphasised that the findings reflected an average impact on patients, and some individuals may experience more benefit than others.
Dr Robertson agreed. 'There are some patients [in whom] there is a substantial benefit and so it is something that should be part of the treatment repertoire available to us,' he said, noting more research was needed in children and adolescents with severe disorders and at risk of suicide, who were excluded in the studies reviewed.
If antidepressants were needed, Dr Robertson said the review provided some guidance on which antidepressants should be preferred for children and adolescents.
'We should use fluoxetine first up, and then it's suggesting sertraline and escitalopram,' he said, adding that this was in line with the current approach of child and adolescent psychiatrists.
Cochrane Database Syst Rev 2021; (5): CD013674.