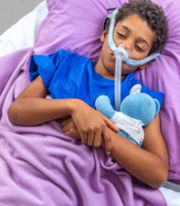 © JPC­PROD/STOCK.ADOBE.COM. MODEL USED FOR ILLUSTRATIVE PURPOSES ONLY
Risk of adolescent hypertension in children with persistent sleep apnoea
By Melanie Hinze
Childhood obstructive sleep apnoea (OSA) that persists into adolescence is linked to an almost three-fold increased risk of adolescent hypertension, according to the results of a paper published in JAMA Cardiology.
The population-based cohort study investigated 421 children, aged 5 to 12 years at baseline, from the Penn State Child Cohort. This was a two-phase study involving questionnaires, sleep studies and blood pressure (BP) measurements at baseline between the years 2000 and 2005, and follow up between 2010 and 2013 (mean age of children, 16.5 ± 2.3 years). Data analyses were conducted in 2020.
The study authors found that OSA with an apnoea-hypnoea index (AHI) of 2 or more that persisted into adolescence, but not OSA that remitted in adolescence, was linked to elevated BP (odds ratio [OR], 2.9) in a dose-response manner. An AHI of 5 or more was found to be associated with adolescent orthostatic hypertension (OR, 3.1). Visceral adipose tissue (VAT) and metabolic syndrome (MetS) risk scores were also shown to be strongly involved in this association.
Male participants were significantly more likely than female participants to have both OSA and elevated BP in adolescence, and males were also significantly less likely to experience remission of childhood OSA. According to the authors, this suggested that sex-related adipose distribution and metabolic factors might have a role in the aetiology of OSA and associated cardiovascular risk factors.
Professor Sarah Blunden, Professor of Psychology and Head of Paediatric Sleep Research at Central Queensland University, Adelaide Campus, said that while there was a clear connection between adult OSA and hypertension, similar links in children or adolescents had been unclear.
'This was a large, randomised, longitudinal study, using a community-based sample, that represents rigorous science,' she said.
'Importantly this research confirms that males with OSA from childhood continuously into adolescence had increased BP and an increased risk of cardiovascular disease.'
Professor Blunden added that GPs have an important role in screening for OSA in childhood. Unlike in adulthood, snoring in childhood is a red flag for OSA, so simple questions like, 'Does your child snore?', or 'Does your child mouth breathe?', can be important.