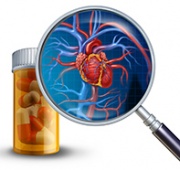 © FRESHIDEA/STOCK.ADOBE.COM
Risks of discontinuing statins for primary prevention in the elderly
By Nicole MacKee
Discontinuing statins for primary prevention in 75-year-olds may increase their risk of cardiovascular (CV) events, say French researchers.
The researchers reported in the European Heart Journal that discontinuing statins in people aged 75 years, with no history of a CV event at baseline, was associated with a 33% increase in hospitalisation for CV events. Admission for a coronary event was more likely than admission for a cerebrovascular event (46% and 26% increased risk, respectively).
In their review of French national healthcare databases, the researchers identified 120,173 people who had been regularly taking a statin over the previous two years. Participants were followed for an average of 2.4 years.
The researchers found that discontinuation (defined as no exposure to statins for three months) was most strongly linked with hospital admission, nursing home admission, diagnosis of metastatic solid tumour and initiation of enteral or oral feeding.
Associate Professor Leon Simons, Director of Lipid Research at Sydney's St Vincent's Hospital, described the findings as 'intriguing' and 'worrying', but said the research did not answer the crucial question of whether statins should be prescribed for primary prevention in this age group in the first place.
'It shows the potential danger of people discontinuing their treatment, but it doesn't tell us that we should practise [using statins for] primary prevention in the elderly,' he said.
The French researchers noted that the discontinuation rate found in the study was low at 14.3%. Associate Professor Simons said the discontinuation rate of statins in Australia was likely to be much higher, pointing to his 2011 findings that around 43% of people discontinued statin therapy within the first six months. He said more recent analyses of PBS data showed similar discontinuation rates.
Associate Professor Simons said the French study had several important limitations, including a lack of data on the underlying risks, such as baseline cholesterol levels, smoking and obesity. Still, he said, it was important for GPs and specialists to note that, once an older person was taking a statin, there may be risks in ceasing therapy.
'It's intriguing data – it does show what can happen. Some of that may be because of deprescribing,' he said, pointing to the associations found between statin discontinuation and hospital or nursing home admission.
Eur Heart J 2019; 00: 1-10; doi: 10.1093/eurheartj/ehz458.