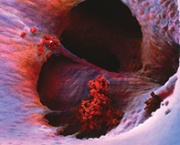 Rivaroxaban plus aspirin shows benefits in secondary CV prevention
By Bianca Nogrady 
The addition of low-­dose rivaroxaban to aspirin in secondary prevention of cardiovascular (CV) disease is associated with a lower incidence of major CV events, new research shows.
The Cardiovascular Outcomes for People Using Anticoagulation Strategies (COMPASS) study, published in The New England Journal of Medicine and its findings presented at the recent European Society of Cardiology Congress, randomised 27,395 participants with stable atherosclerotic vascular disease to low-­dose rivaroxaban (2.5mg twice daily) plus aspirin (100mg once daily), rivaroxaban alone (5 mg twice daily) or aspirin alone (100 mg once daily).
The industry-­funded study, conducted in more than 600 centres in 33 countries, ended early because of the positive results for the rivaroxaban plus aspirin group, who showed a significant 24% reduction in the risk of CV death, stroke or myocardial infarction compared with aspirin alone, after a mean follow up of 23 months.
However, there were 70% more major bleeding events in this combined treatment group compared with aspirin alone, although there were no significant differences in intracranial or fatal bleeds. 
Overall, there were 18% fewer deaths in the combined treatment group compared with the aspirin alone group.
There was no significant difference in the incidence of major CV events between the rivaroxaban­alone group and the aspirin­alone group, although the rivaroxaban group had more major bleeding events.
Rivaroxaban is a selective direct factor Xa inhibitor currently used to prevent and treat venous thrombo­embolism and prevent stroke or systemic embolism in patients with atrial fibrillation.
The author of an accompanying editorial described the trial as an important step forward that was likely to change guidelines, although he suggested more research was still needed.
Commenting on the study to Medicine Today, cardiologist Professor Leonard Arnolda said the study followed an earlier trial that had suggested a benefit from rivaroxaban in patients who had experienced an acute coronary syndrome.
'The most important issue is whether the benefits in terms of clotting problems leading to heart attack and stroke are sufficient to outweigh problems from excessive bleeding and here it looks like the net effect is positive,' said Professor Arnolda, Clinical Director of the Illawarra Health and Medical Research Institute, Wollongong, NSW.
'There was more bleeding, but it wasn't intracranial bleeding, which is the most serious bleeding problem.'
Professor Arnolda said a reasonable case could be made for rivaroxaban in secondary prevention, although he suggested there was a need for other trials examining different antiplatelet and anticoagulant agent combinations.
N Engl J Med 2017; doi: 10.1056/NEJMoa1709118.
N Engl J Med 2017; doi: 10.1056/NEJMe1710241.
Picture credit: © Prof P Motta/G Macchiarelli/University "La Sapienza", Rome/SPL