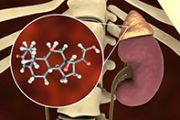 © KATERYNA KON/ SHUTTERSTOCK.COM
Screening for primary aldosteronism in general practice
By Rebecca Jenkins
GPs could play an important role in screening for primary aldosteronism (PA), Australian researchers say, after a study found 14% of people with treatment­-naïve hypertension had the condition.
People with hypertension were not often screened for PA, as it was considered rare, researchers wrote in the Medical Journal of Australia. This meant the condition was often missed and only a minority of patients with PA received targeted treatment with adrenalectomy or mineralocorticoid receptor antagonist therapy.
In the prospective study, GPs were given education on PA and asked to assess the aldosterone­-to­-renin ratio for people aged 18 to 80 years with hypertension, classified as measurements of systolic blood pressure exceeding 140 mmHg or diastolic blood pressure exceeding 90 mmHg on two or more separate occasions, who were not taking antihypertensive medications.
The study, involving 31 Victorian general practices, found PA in 35 of 247 treatment-­naïve patients with hypertension (14%) screened during March 2017 to November 2020.
The study authors, led by Dr Renata Libianto, a PhD student at the Hudson Institute of Medical Research in Melbourne, said this was much higher than the current PA detection rate.
Senior author Dr Jun Yang, Head of the Endocrine Hyper­ tension Group at the Hudson Institute of Medical Research, said screening for PA should be a first­-line test for people with newly diagnosed hypertension rather than an after thought.
'PA is more deadly than essential hypertension, if left untreated, because it causes more heart attacks, heart failure, strokes and kidney failure. Aldosterone excess can cause deleterious effects above and beyond the effects of elevated blood pressure alone,' she told Medicine Today.
'But the condition is potentially curable or at least has highly effective treatment, as long as it is accurately diagnosed. The earlier the diagnosis, the less time for high blood pressure and excess aldosterone to cause harm.'
Dr Yang wanted to work with organisations involved in writing hypertension guidelines to encourage early detection of PA.
'These patients will then be able to receive targeted treatment for the root cause of their high blood pressure, rather than ineffective treatment often in the form of multiple drugs for lowering blood pressure,' she said.
Patients whose hypertension was not responding to medication should also be tested, she said; however, many commonly used antihypertensive drugs can create a false­-negative result, meaning GPs may need to switch to noninterfering medications for a reliable test result.
Med J Aust 2022; doi: 10.5694/mja2.51438.
Editor's note: For more information on diagnosing and managing primary aldosteronism read the article 'Primary aldosteronism. Efficiently making a commonly missed diagnosis', published in the May 2022 issue of Endocrinology Today.